LAUDA Proline Kryomats
Product Announcement from LAUDA DR. R. WOBSER GMBH & CO. KG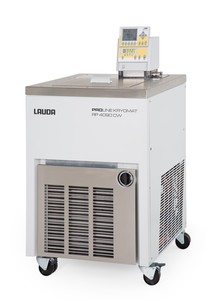 The successful LAUDA Proline is extended with new models for ultra deep-temperature applications:
LAUDA Proline Kryomats combine maximum convenience in operation with outstanding performance characteristics regarding cooling capacity and reduced floorspace demand. With two new models, Proline RP 4090 C and RP 4090 CW, an air-cooled unit as well as a water-cooled unit are available now.
Fast and efficient:
High cooling capacities enable fast and reliable temperature changes, even at already low temperatures. The SmartCool system with its microprocessor controlled low temperature control ensures the utmost of energy effectiveness. This returns in energy savings up to 75 percent.
Easy operation and handling:
The detachable Command console ensures an easy, convenient and intuitive operation regarding set of parameters. A great surplus in respect to daily changing applications. The microprocessor controlled fan of the air-cooled unit warrants for a notably quiet continuous operation. The Kryomats unique compact design saves valuable laboratory or production floor space and ensures easy handling of the instruments.
Versatile and flexible:
With the exceptionally large dimension of the bath Proline Kryomats are suited for internal applications, when space is of essence and large amounts of samples are to be tested. The microprocessor controlled bath egde heating prevents condensation and consequently the icing of atmospheric humidity during deep temperature applications.
Applications:
LAUDA Proline Kryomats are particularily suited for professional operation in material testing. A typical application, for example, are notched-bar-tests in the metal industry, where metal bars are destroyed under controlled conditions at -90 °C.
---