LAUDA Tensiometer TD 3
Product Announcement from LAUDA DR. R. WOBSER GMBH & CO. KG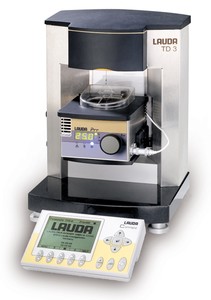 New: LAUDA Tensiometer TD 3
The LAUDA Tensiometer TD 3 is ideal for study and educational purposes. It serves to measure surface and interfacial tensions, to determine the density of liquids and to measure smaller weights. The fully automated yet reasonably priced device has a precise electromagnetic weighing cell and an offset control unit with graphical LCD display for accurate measuring with the easiest operation.
The automatic ring/plate LAUDA Tensiometer TD 3 with stability control is ideal for use in the field of quality control, e.g. for interfacial tensioning of insulating oils.
A comprehensive range of accessories is available, including a temperature sensor and the newly integrated Peltier tempering unit with integrated magnetic stirrer.
Application Examples:
Checking cleansers for detergent residues
Determining and testing the physical properties of solutions
Development and testing surface-active substances such as tensides and emulsifiers
Proving the presence of surface-active substances in liquid effluents and waters
Special Features:
Motorised table for low-vibration measurements at variable speed
Your advantage: automatic individual adaptation to the properties of the sample
Full GLP compatibility
Your advantage: standardised working
Data transmission software for further processing in Windows
Your advantage: reliable and quick data storage and analysis
Special Characteristics:
- Easy to operate
- Conveys a direct feel for surface and interfacial tension
- Particularly suitable for beginners and for education
- Graphical display for surface and interfacial tensions
- Optional data storage and data transmission to PC or printer
- Precise electromagnetic weighing cell
- Simple selection of measuring methods by Du Noüy ring, Wilhelmy plate, Lenard frame or
density measurement
- Calibration using standard weights
You have questions or want more information?

We take care of your inquiry immediately and come back to you ASAP.
---