Product Announcement from LAUDA DR. R. WOBSER GMBH & CO. KG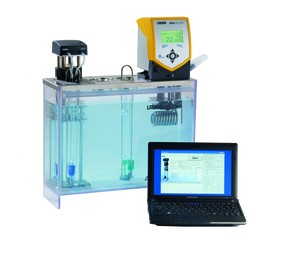 LAUDA Viscometer iVisc
The fully automatic, space-saving iVisc is easy to operate and ideal for starting out in professional viscometry. Simply plug in the USB cable, start the software and the capillary viscometer is ready to use. The iVisc can be operated independently with a low-cost computer or netbook.
The compact, intelligent viscosity measuring stand is designed for a wide range of standard glass capillaries (e.g. Ubbelohde, Cannon-Fenske and micro-Ostwald). With a suitable LAUDA clear-view thermostat (e.g. LAUDA ECO ET 15 S) and the appropriate glass capillaries, kinematic viscosities can be determined in the range from 0.3 up to 30.000 mm²/s. This versatility allows for a broad range of applications: solution viscosity of polymers, determining chain length of proteins or temperature resistance of lubricants are just a few application examples in which reliable results are required.
Distinguishing Features:
• "Plug & play" equipment installation
• Connection of up to two iVisc per computer
• Intuitive software user guidance
• Start/stop buttons on the equipment
• Exact and intelligent optical meniscus sensing even for problematic fluids
• Control and power supply possible from a computer via USB (PC, notebook etc.)
• LED operating status indicator
• Only one cable (USB) for control and power supply
• Only one Watt power consumption
• Measuring temperature from -20 up to 150 °C
Polymer producers and plastic processors
Application examples:
• Qualitätssicherung vom Granulathersteller, Compounder bis zum Kunststoffverarbeiter
(z. B. Automobilindustrie)
• PET, PVC, PA, PC, PMMA, ABS, PE, PP etc.
• Bestimmung von Polymerkenngrößen (K-Wert, Viskositätszahl, intrinsische- und inhärente Viskosität, molekulare Masse)
Pharmaceutical, biochemistry, paper and food industry
Application examples:
• Research and quality assurance
• Base substances, polypeptides, cellulose
• Determining chain length of proteins, molecular mass
Petrochemistry, lubricants, oils and fuels
Application examples:
• Development, optimisation and quality control in close proximity to the application
• Viscosity adjustment for engine oil, lubricant, fuel, kerosene, additives etc.
• Determining absolute kinematic viscosity in mm²/s
LAUDA iVisc for Standard-Compliant Measurements
ASTM D445 · ASTM D2270 · ASTM D789 ASTM · D1243 · ASTM D4603 · ASTM D4878
DIN 51562 · DIN 53728 · EN ISO 1628 · EN ISO 307 · ISO 3104 · ISO 2909
You have successfully added from to your part list.
---