Promotional Thermographics
Product Announcement from LCR Hallcrest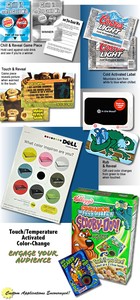 Activation temperature points range from low refrigeration type temperatures through normal body temperatures to high temperatures that exceed the pain threshold.
Cold Activated Thermochromic Ink is used on labels and packaging to create a color change when cooled. (Clear to Color: 15ºC / 59ºF)
Touch Activated Thermochromic Ink will vanish when rubbed or touched to reveal an image or another color printed beneath. (Color to Clear: 31ºC / 88ºF)
Touch Activated Liquid Crystal Ink will change color within the visible spectrum when rubbed or touched.
(Black » Red » Green » Blue: 25-30ºC / 77-86ºF)
High Temperature Thermochromic Ink is designed to change color just below the pain threshold alerting consumers and users to a safety hazard - Too Hot! (Color to Clear: 47ºC / 117ºF)
Hallcrest thermochromic formulations are available as a finished ink, pigment or a liquid crystal screen ink. Colors and temperatures can be customized to your application and printing capability. Thermochromic Temperature Range: -10ºC to 69ºC (14ºF to 156ºF)
You have successfully added from to your part list.
---