24-Volt DC Conveyor Option
Product Announcement from LEWCO, Inc.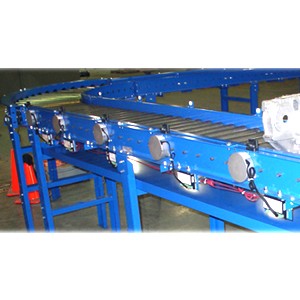 LEWCO offers a number of conveyor models utilizing 24 volt DC technology including chain driven live roller, belt driven roller, belt and chain conveyor models. The 24 volt option provides rugged conveying capability with advanced innovation for zone accumulation. With LEWCO's technology, zero-pressure accumulation conveyors can be constructed without the normal limitations of most o-ring drive conveyors.
Benefits
· Save 24-volt operation
· 1,500 pound capacity per zone
· Energy efficient
· Easy configuration, maintenance and modifications
· Rugged, long lasting motors and controls
· Heavier loads and longer zones
· Multi-function cables provide combined power and data signals
Applications
· Pallet handling
· Machinery lines
· Automotive parts
· Packages and totes
· Assembly operations
· Automation cells
---