40SB, Low Profile, Slider Belt Conveyor
Product Announcement from LEWCO, Inc.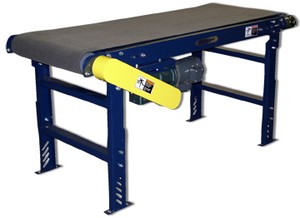 Specifications
Bearings - Sealed pre-lubricated, cast iron flange ball bearings.
Bed - 4" deep x 1/8" formed one piece steel slider bed
Drive Pulley - 4" dia. with 1-3/16" dia. shaft crowned and lagged. mounted in 2 bolt flange bearing.
Return and Snubber Roll - 1.9" dia. 16 ga. wall tubes with 7/16" hex axle, and grease packed precision bearings.
Supports - Heavy duty with welded inner channels and adjustable angle top plates.
Belt (BELT)
(B04) Rough Top, 3 Ply Nitrile
(B24) Trackmate, Polyvinylchloride (PVC) with clipper lacing installed.
(B26) Trackmate, Polyvinylchloride (PVC) rough top with clipper lacing installed.
(B81) Trackmate, Polyvinylchloride (PVC) rough top with clipper lacing installed
(B82) PURE GUM, 3PLY,240 TAN
(B83) POLY100,WHITE,FOOD GRADE
(B84) Food grade, White Polyvinylchloride (PVC) with clipper lacing installed.
(B85) Plied Rubber with Slip Top.
(B88) Food grade, White polyurethane thermoplastic (TPU).
(B89) Polyurethane thermo-plastic (TPU) Covered
(B91) Ultimate 140 BBS,Poly,Balck
(B92) Trackmate,Polyvinylchloride (PVC) longitudinal groove, clipper lacing installed.
(B94) Slip Top, Latex with clipper lacing installed.
(B99) No Belt included.
Standard (B98) Black Polyvinylchloride (PVC), cover one side (COS), clipper lacing installed.
B25: Trackmate, PVC120, black, FBS
Drive (DRIVE)
(D01) End Drive, Bottom, Left
(D02) Center Drive, Right
(D03) Center Drive, Left
(D04) End Drive, Side, Right
(D05) End Drive, Side, Left
Standard (D08) End Drive, Bottom, Right
(D99) Drive Not Included
Motor (MOTOR)
(M01) 1/2 HP, 120V, 56C, TEFC, 1Ph
(M02) 1/2 HP, 90VDC, 56C, TENV
(M03) 3/4 HP, 56C, 230-460V 3ph
(M04) 3/4 HP, 115-230V, 56C, TEFC, 1Ph
(M05) 3/4 HP, 90VDC, 56C, TEFC
(M06) 3/4 HP, 180VDC, 56C, TEFC
(M07) 1 HP 230/460V, 56C, TEFC, 3ph
(M08) 1 HP 180VDC, 56C, TEFC
(M09) 1-1/2 HP, 230/460V, 145TC, TEFC
(M10) 1-1/2 HP, 180VDC, 145TC, TEFC
(M102) Not included, Drive sized for 1/2 HP, 56C
(M103) Not included, Drive sized for 3/4 HP, 56C
(M104) Not included, Drive sized for 1 HP, 56C
(M105) Not included, Drive sized for 1 HP, 143TC
(M106) Not included, Drive sized for 1-1/2 HP, 143TC
(M13) 3/4 HP, 56C, 230/460V 3Ph, brake
(M14) 1 HP, 230/460V, TEFC, brake
(M15) 1-1/2 HP, 230/460V, TEFC, brake
(M19) 1/4 HP,DC,90V,56C,TENV
(M20) 1/4 HP,230/460V,56C,TEFC
(M21) 1/4 HP,120V,56C,TEFC
(M22) 1/3 HP,230/460V,56C,TEFC
(M23) 1/3 HP,120V,56C,TEFC
(M24) 1/3 HP, 90V, 56C, TENV
(M25) 1/2 HP, 230/460V, TENV, brake
(M26) 1/2 HP, 230/460V, 56C, inverter
(M27) 1 HP 90VDC, 56C, TEFC
(M31) 3/4HP, 230/460V, inverter duty
(M32) 1 HP 230/460V, inverter
(M33) 1-1/2HP, 230/460V, inverter
(M45) 1 HP,230V, 56C, TEFC, 1ph
(M46) 1-1/2 HP, 230V, 145tTC,TEFC,1PHH
(M60) 1/2 HP,575V,TEFC,56C,3PH
(M61) 3/4 HP,575V,TEFC,56C,3PH
(M62) 1 HP,575V,TEFC,56C,3PH
Standard (M99) 1/2 HP, 230/460V, 56C, TEFC, 3 Ph
Available Speed (SP)
20-300 ft/min
Available Beginning Elevation (BE)
4.5-60 in
Available Ending Elevation (EE)
4.5-60 in
Available Belt Width (BW)
10 in
12 in
14 in
16 in
18 in
20 in
24 in
30 in
36 in
6 in
8 in
Available Length (LG)
48-600 in
Guard Rail (GDRAIL)
(G16) Bolt On, Channel, 2-1/2" x 1-1/4" x 12ga
Standard (G99) Guard rail not included with standard configuration
Roll Bearing (RLBRG)
Standard (A19) Grease packed, Precision, 7/16" hex axle
Support Centers (SUPCC)
(SCC0) No Supports
(SCC5) Supports On 5' Center To Center
Standard (SCC10) Supports On 10' Nominal Center To Center
Frame Finish (FINISH)
(PP09) Powder Coat, Green
(PP11) Powder Coat, Beige
(PP24) Powder Coat, Gray
(PP45) Powder Coat, Orange
Standard (PP94) Powder Coat, Blue
(PP95) Powder Coat, Yellow
(PP346) Powder Coat, Black
---