Vacuum Composite Oven
Product Announcement from LEWCO, Inc.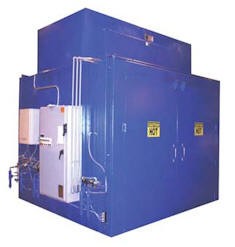 Features LEWCO's computerized Vacuum Composite Curing Control System for easy operator control, complete automation, and data retention.
Customizable vacuum systems to fit your needs (various pumps, control receivers, vacuum sources, vacuum probes and resin traps).
LEWCO Ovens are being successfully used in vacuum composite applications.
A leader in the development of advanced technologies for military space, strategic, and tactical applications uses a LEWCO Vacuum Composite oven in their manufacturing.
The Department of Defense uses two LEWCO Vacuum Composite ovens to repair C-17 panels.
LEWCO can supply Vacuum Composite ovens in several configurations ranging from complete ready to use ovens which include all vacuum manifolds, vacuum pump, thermocouples with thermocouple jack panels, resin traps, transducers and computerized controls down to just the oven with standard temperature controls and ports available for the customer to supply their own vacuum system with controls.
---