PCD Tipped Inserts with Chipbreakers
Product Announcement from LOVEJOY Tool Company, Inc.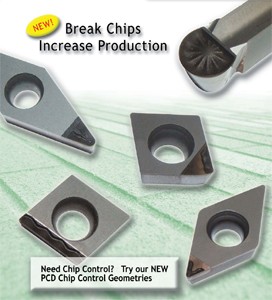 This advanced proprietary design greatly enhances the performance and tool life with higher shear angles and lower cutting pressures minimizing heat expansion of the workpiece. Precise dimensional accuracy eliminates the need for secondary operations while increasing productivity and reducing costs. The designs of the chip control edge allows short controlled chips coming off the work piece eliminating the need to stop production when clearing chips from long piece contact.
Lovejoy has designed and manufactured cutting tools as large as 55" in diameter and under 1.00" diameter.
Lovejoy is producing cutting tools that are used in machining materials from Cast Iron and Steels to state of the art Super Alloys and Composite structures. Lovejoy Tool Company is proud to be a supplier of quality standard and unique designed cutting tools to a varied customer base for over ninety years.
---