SECH Type
Product Announcement from LOVEJOY Tool Company, Inc.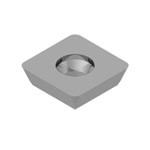 LOVEJOY milling tools deliver optimal performance in all your crucial operations, such as contouring, slotting, facing, boring and ramping.
Indexable Tooling with Inserts:
Using the most innovative practices, LOVEJOY Tool creates indexable inserted tooling.
Since Lovejoy's beginning, Lovejoy Tool has been offering quality cutting tools to a wide variety of industries including Automotive, Heavy Equipment, Aircraft, Aerospace, Power Generation, as well as Marine to name a few.

Lovejoy Tool offers a standard product line of cutting tools and an experienced Engineering staff that routinely designs and manufactures unique, one of a kind tools to meet Lovejoy customer's part specification.

Lovejoy has designed and manufactured cutting tools as large as 55" in diameter and under 1.00" diameter.

Lovejoy is producing cutting tools that are used in machining materials from Cast Iron and Steels to state of the art Super Alloys and Composite structures.
Lovejoy Tool Company is proud to be a supplier of quality standard and unique designed cutting tools to a varied customer base for over ninety years.
---