Product Announcement from LS Industries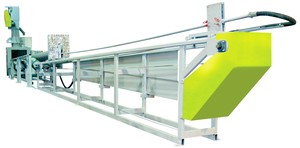 The LS ID Pipe Blaster blast cleans the interior surfaces of pipe and is capable of cleaning pipe diameters from 1/8 inch to 8 foot. The LS blast unit incorporates air blast technology or impeller shot blasting to clean pipes. IDPB224 Pictured for cleaning 2 inch to 24 inch pipe. (read more)
Construction: Welded tube and structural steel. Weight capacity determines the final construction and material handling design.
Air Blast Systems: Consists of a large capacity pressure pot combined with compressed air propels the shot or grit. A lance moves throught the interior of the pipe spraying the abrasives. This effectively removes surface contaminants. This prepares is for secondary process such as passivation/pickling or coatings. Air blast is used in smaller diameters from 1/8 inch to 48 inch.
Impeller Wheel: The heart of a wheel blast system is the impeller wheel. The impeller wheel propels the shot against the part at a high velocity to provide efficient cleaning action. Because the wheel and impeller blades are vital to the operation of the machine, LS uses a hardened abrasive resistant material for the impeller blades. The blades are designed for easy maintenance and replacement. Impeller type systems are used in large diamete pipe from 49 inch to 96 inch.
Impeller Motor: The blaster use 1 motor, 10 - 30 HP to drive the impeller wheel.
Shot Feed System: Abrasives are returned to the system by gravity. As shot is thrown impacting the rotating pipe, it returns to the shot tray and is reused. This system uses an elevator, airwash and augers to move the abrasives.
Material Handling System: Material is loaded on to a series of wheels which rotate the pipe as it is blasted. This will provide an even blast pattern on the pipe. A variable speed control is standard. Smaller pipe is batched and held in place.
Dust Collector: All LS blasters include a dust collector as standard equipment. IDPB224 Pictured for cleaning 2 inch to 24 inch pipe.
You have successfully added from to your part list.
---