Product Announcement from LS Industries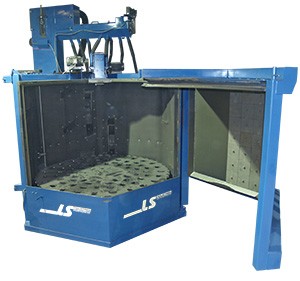 Typical cleaning operations for the table blaster include: castings, forgings, foundry, parts to large to tumble and parts that might be damaged in a tumble blast machine. The table blasters are versatile and can blast off rust, scale and prepare surfaces for further finishing.
All LS Industries' Table Blasters are built from the ground up with dependability in mind. LS Blasters are built from rugged steel and alloy steel with welded construction. Replaceable "wear resistant" liner materials are strategically positioned inside the cabinet, to absorb the brunt of the impact from the abrasive. These machines are built to provide years of trouble free service with minimal maintenance.
At the heart of the LS Table Blaster is the LS TurboShot™ impeller. This impeller consists of eight blades mounted on a rotating drive shaft. As shot enters the LS TurboShot™ housing, it is fed directly into the path of the impeller blades to create a blast stream that maximizes the impact/coverage ratio. The LS TurboShot™ impeller features replaceable, wear resistant blades to simplify maintenance and reduce downtime.
LS Industries' 12' Table Blasters are designed for easy operation! Our standard blasters feature hinge mounted doors for easy access. Our tables are specially constructed from rugged manganese/steel alloys. The table capacity is 40.000 lbs up to 24" off-center. The V slot-door opening exposes 50% of the table for easy parts loading and removal. Just close the door and set the timer. Shot usage is monitored by indicator lights and an analog readout of amperes being drawn by the LS TurboShot™ impeller wheels.
LS offers in-depth experience in the engineering design and manufacturing of blast cleaning equipment. Working with you and your engineers, LS can provide innovative solutions that meet your cleaning requirements and integrate well with your existing manufacturing systems. The experienced, on-site, engineering staff provides advanced computer-designed solutions for efficient metal cleaning, profiling and surface preparations.
You have successfully added from to your part list.
---