Product Announcement from Labconco Corporation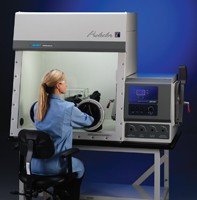 Protector Fiberglass Filtered Glove Boxes feature inlet and outlet HEPA filters, 99.99% efficient on 0.3 micron particulates; one-piece molded fiberglass liner; clear acrylic inner and outer transfer chamber doors; particulate containment <20 nanograms per cubic meter as confirmed by SafeBridge Consultants, Incorporated; 0.05 ppm average tracer gas levels or less detected during perimeter scan testing (surpasses ASHRAE 110 standards) after 5 minute dilution; airborne particulate cleanliness exceeds ISO Class 4 conditions and achieves ISO Class 3 conditions; factory leak-tested with a mass spectrometer while pressureized with helium at 1 inch of water gauge with no detectable leaks greater than 1 x 10-6 ml/sec.; test port for challenging HEPA filter integrity; true Bag-In/Bag-Out Filter Disposal System for safe filter removal and replacement; LCD display providing real time monitoring of volume dilution rates in cubic feet per minute (cFM), air changes/minute (ACM), and main chamber pressure (inches of water); built-in blower with speed control capable of airflow from 15 CFM to 85 CFM; large viewing area, 36" w x 27.6" high with 3/8" thick, laminated safety glass; space-saving inner and outer transfer chamber doors that pivot upward, are counterbalanced and equipped with quick-latches; interior right-hand side wall-mounted pass-through plug for on-site installation of an optional accessory; pair of neoprene gloves, 0.015" thick, 30" long, size 9 3/4; switches for light, blower and electrical duplex; two 8" ID, epoxy-coated aluminum, double-grooved glove ports mounted 17" apart with neoprene gaskets; two 25-watt fluorescent lights that exceed 100 footcandles; dry powder epoxy-coated, 18 and 20 gauge steel exterior panels. Interior dimensions: 35.00" w x 28.00" d x 28.13" to 32.00" h (88.9 x 71.1 x 71.5 to 81.3 cm).
You have successfully added from to your part list.
---