Product Announcement from Labconco Corporation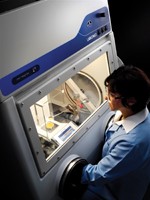 Features include:
• One-piece molded, medium-density polyethylene shell. • Dry powder epoxy-coated steel superstructure • 1/4" thick laminated safety glass viewing window, 26.4" wide x 12.5" high, removable for loading equipment, with powder-coated steel frame and neoprene gasket • Space-saving inner and outer transfer chamber doors that pivot upward, are counterbalanced and equipped with quick-latches • Black, chemical-resistant work surface sealed to the glove box floor • Anti-static ionizer fan to circulate ionized air inside the box to reduce static charge during weighing • Interior ceiling-mounted electrical duplex receptacle with 5 amp maximum circuit load • Neoprene gloves, size 9 3/4", are included. • Built-in blower with speed control capable of airflow from 13 CFM to 100 CFM. • Fluorescent lamp, 22 watts, with easy replacement from the top • Switches for light, blower and innermost interior electrical receptacle • Inlet and outlet HEPA filters, 99.99% efficient on 0.3 micron particulates • Test port for challenging HEPA filter integrity • Main chamber static pressure gauge for monitoring HEPA filter loading. • Approximately 13 cubic feet of interior space in main chamber • 11.0" nominal ID x 12.0" long transfer chamber • Factory leak tested with a mass spectrometer while glove box is pressurized with helium at 5 inches of water gauge • No detectable leaks greater than 1 x 10(-3) ml/sec • Meet Class 1 atmosphere containment conditions for oxygen leak rates per ISO 10648-2 test method • Transfer chamber interior interlocking shelf of dry powder epoxy-coated steel • 0.05 ppm average tracer gas levels or less detected during perimeter scan testing (surpasses ASHRAE 110 standards) • Airborne particulate cleanliness (measured under positive and negative pressures per ISO 14644-1 test method) exceeds ISO Class 5 conditions (equivalent to Class 100) and achieved ISO Class 3 conditions (equivalent to Class 1) at both minimum and maximum operational airflow volumes • Vibration less than 1.5 x 10(-5) inches displacement measured at the work surface at both minimum and maximum airflow volumes • ETL listed (115 volt models) • CE Conformity (230 volt models)
You have successfully added from to your part list.
---