Lange Lift Serial # 29985
Product Announcement from Lange Lift Co. a division of Hevi-Haul International, Ltd.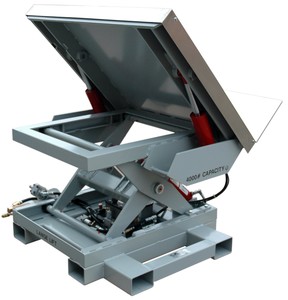 Custom Scissors Lift with Tilting Deck - Lange Lift Serial # 29985 - 4,000 pound capacity scissors lift with 40.5" x 48.38" flat steel deck with stainless steel cover and four sided fork pockets for moving around the food processing plant it is used in. The stainless steel covered deck tilts 45 degrees and has a 12" high front lip. The raised height of the leveled deck is 28", lowered height of 13", with 15" of vertical travel.
This scissors lift is operated off of an 8' long pendant with push button controls for raising, lowering, and tilting the deck forward and back.
The entire lift was powder coated gray except for the stainless steel deck cover and lip.
---