Lapmaster DSG-1200 Fine Grinding System
Product Announcement from Lapmaster-Wolters International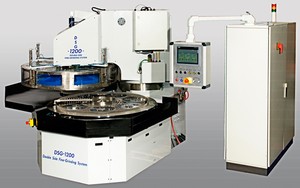 Lapmaster International LLC presents our latest precision technology system, the DSG-1200 Double-Sided Fine-Grinding system. This technology saves time and enhances repeatable precision! The Fine-Grinding process is normally 15-20 times as fast as conventional abrasive lapping. Combine this processing speed with the accuracy of 2-sided fine grinding, which generates flatness, parallel and thickness variation within microns (in a production environment).
Surface finish generation is primarily a function of the type of abrasive and average particle size of that abrasive, as used for the fine-grinding plates. Lapmaster helps in selecting plate types which provide the perfect balance between material removal rates and surface finish generation, in order to optimize the process. Unique to Lapmaster, we enable the end-user in obtaining the best overall results as we build both the machinery, as well as the fine-grinding super-abrasive plates.
You have successfully added from to your part list.
---