Power transmission & Servo Drive Connectors
Product Announcement from Lapp Group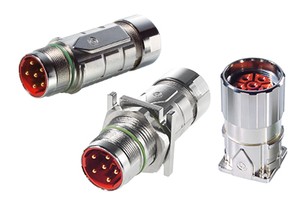 EPIC® LS1 Circular and Mixed Power Connectors are designed to DIN specification EN61984 and have a standard M23 threaded connection housing. They are offered in male coupler, female connector, and male inlet configurations that satisfy simple cable-to-cable and cable-to-machine requirements. They are ideal for power transmission and servo drive applications in the plastics, printing, analytical instrument, robotic, machine tool industries, and any other industrial or commercial application where a compact connector with high voltage and current capability is required.
EPIC® LS1 Connectors are available in five housing arrangements and two contact configurations. Common to all arrangements are a rugged nickel plated zinc body, plastic contact insulation body and sleeve, and gold plated electrical contacts (included with the connector part number). Cable mounted arrangements also include an integral EMC shield ring and cable clamp and seal. The figure to the right shows the general construction of these connectors.
These connectors are offered with a 5+PE contact configuration for power distribution (5 contacts plus ground rated at 630 volts and 22 amps), and a 3+PE+4 contact configuration for mixed power and signal requirements for servo motor with brake and feedback applications (3 contacts plus ground rated 630 volts and 22 amps and 4 contacts rated 250 volts and 7 amps). Used in combination, they connect one flexible cable with another (cable coupler) or one flexible cable to fixed wiring on a machine (appliance coupler).
For more data information visit our online catalog;
https://lappdigitallibrary.cld.bz/2016-LAPP-Catalog/431#zoom=z
Call our toll free number to speak to a representative: 1-800-774-3539
---