Remote Power Panel - Series 70 eRPP
Product Announcement from LayerZero Power Systems, Inc.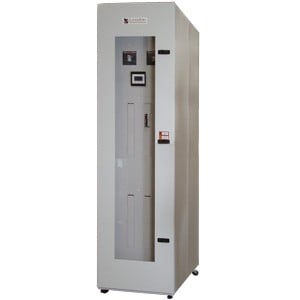 The LayerZero Series 70 eRPP is a web-enabled remote power panel that takes the reduced voltage from transformers and distributes this power directly to the individual critical operation. Inspired by NFPA-70E, the Series 70 eRPP remote power panel is ideally suited for today's high density always-on data-processing environments.
The Series 70 eRPP increases reliability in two ways:
Utilizes Finger-Safe Panel Board
Provides Selective Trip Coordination To 25kAIC
With its SafePanel™ advanced design, there are no live parts exposed when the deadfront is open and you can add a branch breaker in minutes. Selective tripping eliminates the catastrophic problems associated with the main circuit breaker opening when the branch breaker cannot handle the fault current.
The panel board of the eRPP is designed for maximum operator safety during live current installations with its fully enclosed molded plastic bus and non-conducting screws. Perfect for a raised-floor application, all feeder and branch connections can be installed & thermal scanned fully from the front.
Overview
Ideal for large data center or industrial applications
IP-20 SafePanel™ with isolated non-conducting screw
Branch circuit breakers open in less than 1/4 cycle
Selective Trip Coordinated up to 25kAIC
Waveform capture for 168 branch circuits (plus main)
Modbus/TCP, SNMP, http, VPN, and Bluetooth enabled
Electrical Configurations
Voltage Ratings: 208/120V, 4-Wire, 400/230V, 4-Wire, 415/240V, 4-Wire, 480/277V, 4-Wire
Current Rating: 225A (100% rated); or 400A (100% rated)
Two panel board (84 circuit) version with one or two main feeds
Four panel board (168 circuit) version with one, two or four main feeds
Panel Board Main Circuit Breaker is plug-in
Each Panel Board may be fed by two separate sources and may have two 4-pole main circuit breakers
Main Circuit Breaker is 100% continuous duty rated
Branch CB fault rating: 25kAIC at 208/120V, 14 kAIC up to 480/277V
Panel board main CB fault rating: 25kAIC standard
Reliability
Insulated flexible bus
Compression connections at input feeder
Silver plated terminals
Machined cap screws & disc springs
Helicoil & PEM inserts
Fanless operation
Serialized circuit boards
"Black box" forensic diagnostics
Safety
IP-20, finger-safe panel board design
Dead-front hinged doors
Clear Translucent Polycarbonate window to show breaker position
NFPA 70E friendly
Connectivity
Ethernet
Bluetooth
Modbus/TCP
NTP time clock synchronization
Information Centricity
Branch circuit breaker level monitoring
Main circuit level monitoring
Access to eBOSS portal
Project tracking
Incident logging
Access to test reports & documentation
Agency Certification
The Series 70 eRPP is ETL listed to UL 60950
You have successfully added from to your part list.

Play Remote Power Panel - Series 70 eRPP Video
---