VarioSpray II - Hydraulic Spray Atomization
Product Announcement from Lechler, Inc.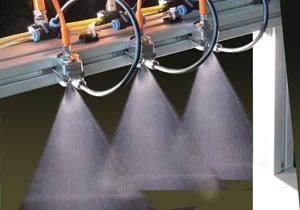 The VarioSpray II produces a fine hydraulic spray in very small quantities by electronically pulsating a flat fan spray nozzle, rather than using expensive compressed air to atomize. It can operate individually or on a header with others for wide production runs. As a result, with the VarioSpray II you can improve your cycle times, better control your fluid usage, minimize waste through precise nozzle aiming, generate constant spray widths and consistent droplet sizes, and spray variable amounts at the same pressures without changing nozzles. It is even eco-friendly since it is does not require compressed air energy to operate and since it saves on the fluid by using what it does spray more efficiently so less does more.
In spite of all it can do, the VarioSpray II has low operating costs, as it is quick and easy to install and maintain.
The Lechler Group has manufacturer's sales representatives on six continents and for years has been the market leader in Europe for spray products.
As a whole, the Lechler Group is one of the largest manufacturers of spray nozzles, engineered systems, and accessories in the world.
Our products are used for applications in manufacturing, environmental engineering, and agriculture.
Specific markets for which we routinely engineer systems include steel, pulp and paper processing, environmental control at energy power plants and cement manufacturers, and wastewater treatment facilities.
In addition, Lechler products are widely used in chemical plants, at pharmaceutical facilities, for electronic circuit board manufacturing, during beverage processing, by food makers and processors, and in general by any manufacturing facility that has a need to spray fluid or air.
Products:
Applications:
Catalog 500 is here!
Lechler, Inc. has published its latest product catalog, Catalog 500, which details Lechler's wide range of spray products and accessories. Most of these products are readily available from stock or with relatively short lead times. Included are thousands of our core items that can be used wherever fluid or air is needed to clean, coat, cool, evaporate, humidify, dry, or blow off. The catalog has an extensive Engineering section which can assist users in making their product selection through information on spray system design, material options, conversion tables, and product differentiation. Download Lechler Catalog 500
You have successfully added from to your part list.
---