Product Announcement from Lechler, Inc.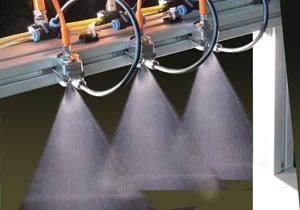 The VarioSpray II produces a fine hydraulic spray in very small quantities by electronically pulsating a flat fan spray nozzle, rather than using expensive compressed air to atomize. It can operate individually or on a header with others for wide production runs. As a result, with the VarioSpray II you can improve your cycle times, better control your fluid usage, minimize waste through precise nozzle aiming, generate constant spray widths and consistent droplet sizes, and spray variable amounts at the same pressures without changing nozzles. It is even eco-friendly since it is does not require compressed air energy to operate and since it saves on the fluid by using what it does spray more efficiently so less does more.
In spite of all it can do, the VarioSpray II has low operating costs, as it is quick and easy to install and maintain.
WHO IS LECHLER?
Lechler, Inc. is a worldwide leader in the manufacturing of industrial spray nozzles and engineered headers and systems. We are part of the Lechler Group of international companies, which originated in 1879. Lechler has manufacturing locations in five countries, sales offices in 10 countries, and sales representatives on six continents. Visit us at www.lechlerusa.com or call us at 800-777-2926 in the U.S. and Canada with your spray application needs.
You have successfully added from to your part list.
---