Product Announcement from Lechler, Inc.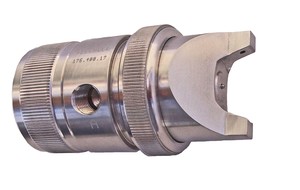 The Lechler ViscoMist air atomizing spray nozzle is designed to atomize viscous fluids such as oils and heavy liquids. Such fluids are often difficult to atomize at all, much less to create a uniform spray for. But the ViscoMist can do it.
Three different body configurations allow tailoring and control of the spray to the specific application needs:
§ Nozzle Body 2 - Allows for three process connections: one for liquid and two for air. One of the air connections controls both atomizing air (droplet size) and fan air (shape of the spray). The other air connection controls signal air (on/off operation) and requires 40 air psi for operation. Thus the droplet size and fan shape can be controlled without affecting the on/off operation of the signal air.
§ Nozzle Body 4 - Allows for four process connections: one for liquid and three for air. One of the air connections controls the atomizing air, one controls the fan air, and one controls the signal air for on/off operation. This model provides the most end user control of the resulting spray.
§ Nozzle Body 5 - Allows for five process connections: two for liquid and three for air. The two liquid inlets are for continuous recirculation of the liquid. The three air inlets, as for Nozzle Body 4, also independently control atomizing air, fan air, and signal air for on/off operation.
Each ViscoMist has a built-in valve and needle for cleanout and shutoff. Thus when the signal air is reduced to less than 40 air psi, the needle not only shuts off the flow of liquid through the nozzle, it also cleans out the liquid chamber to ensure future clog-free spraying.
Typical applications:
§ Spraying of viscous fluids
§ Coating
§ Glazing
§ Sanitizing
§ Recirculation of liquids
Lechler, Inc. is a worldwide leader in the manufacturing of industrial spray nozzles and engineered headers and systems. We are part of the Lechler Group of international companies, which originated in 1879. Lechler has manufacturing locations in five countries, sales offices in 10 countries, and sales representatives on six continents. Visit us at www.lechlerusa.com or call us at 800-777-2926 in the U.S. and Canada with your spray application needs.
You have successfully added from to your part list.
---