Easy Inspection & Documentation - No Eyepieces!
Product Announcement from Leica Microsystems, Inc.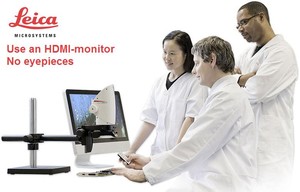 Use an HDMI-monitor instead of eyepieces, with Leica's high quality 8:1 zoom optics combined with a 2.5MP camera you get a full high-definition live image with up to 30fps. The Leica DMS300 produces high-quality, full-color still images as well as Full-HD movies as a standalone system.
All primary functions of the DMS300 are controlled with a wireless remote control. Additionally, it can be connected to a computer offering full compatibility with Leica software LAS EZ. The dual live video stream allows for simultaneous output to a PC and a second imaging device with HDMI-interface such as a HD-monitors or HD-project
Perfect pictures are extremely convenient – and necessary when working with digital microscopy as there are no eyepieces to work with. An image rate of 30 fps is even faster than most television images which have a frame rate of about 25fps. All this is made possible in a standalone system – there is no need for a computer
Learn more via the links on this page or e mail your inquiries
---