Microscope & Camera Systems for Digital Inspection
Product Announcement from Leica Microsystems, Inc.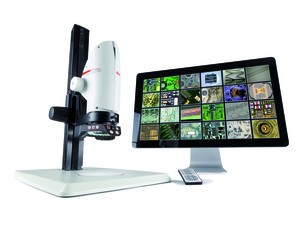 With the new digital microscope systems Leica DMS300 and Leica DMS1000, Leica Microsystems unites all advantages of digital technology with first-class camera performance and high-end optics. Inspection, measurement or documentation – all individual work steps are visualized in crystal clear images on an HD monitor, without the need of an eyepiece.
With its unique FlexApertureTM technology for consistent illumination throughout the zoom range and coded optics for precise and reliable results, the Leica DMS1000 is an ideal instrument for demanding tasks in quality control, research and development. Offered as a complete system solution, the Leica DMS300 is optimized for easy and fast quality control, inspection and documentation in industrial applications. For in-vitro-applications, the special version Leica DMS1000 B completes the new product group.
A perfect combination: high-precision optics plus high-performance camera
The new Leica digital microscope systems are a perfect combination of high-precision optics and a high-performance microscope camera. The CMOS camera can capture up to 5.0 Megapixel (Leica DMS300: 2.5 Megapixel) still images or Full-HD movie clips, all within seconds directly to an SD card without the need of a computer. All camera parameters can be controlled directly via the infrared remote control: faster changeover between different camera modes, performing a white balance operation, capturing movie clips for fast documentation and hands-on training or saving directly to an SD card.
Learn more and visit our website via the links on this page - or e mail your inquiries
---