Coiled Cables for Flexible Motion Sequences
Product Announcement from Leoni Elocab Ltd.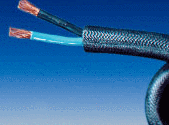 LEONI Coiled Cables are used for flexible sequences and on assembly lines, hand operated terminals and especially where there is irregular movement.
Coiling makes it possible to absorb extreme mechanical strains-irregular tension and torsion forces. With suitable shielding technologies and the use of special insulation materials, as well as ribbons for the best possible gliding properties, LEONI coiled cables are protected in a targeted way against physical and mechanical influences.
The advantage of LEONI coiled cables includes their small space requirement compared with conventional connection cables with the same useful length. Thanks to precise recoil forces, the coiled cable will always return to its original state even under continuous load.
LEONI's Industrial Solutions business unit is a specialist in the development and production of application specific cables, including round cable, custom composite cable, flat cable, high flex cable and electrical cable.
---