LEONI Custom Coaxial and Triaxial Cables
Product Announcement from Leoni Elocab Ltd.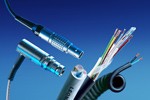 LEONI's industrial solutions business unit is a specialist in the development and production of application-specific cables, including round cable, custom composite cable, flat cable, high flex cable and electrical cable.
As a recognized solutions provider and a partner to the industrial engineering sector, we support our customers across the entire life cycle of their products. Comprehensive know-how, systems expertise, innovative production technologies and international positioning form the basis for our tailor-made cable solutions.
Industrial control, torsion-resistant and miniaturized cables
LEONI manufactures industrial control cables; torsion-resistant, flexible and bundled round cables; flat extruded or laminated cables; and space-saving miniaturized cables down to AWG 50 stranded.
Coil cords, fiber optic cables and flex cables
LEONI also produces coil cords and spirals; fiber optic components and cables; and high-performance flex cables.
Custom cables and hybrid designs
Our cables meet all the pertinent international approvals and standards (UL, CSA, RoHS, VDE, etc.) and are ISO 9001:2000 registered. Our custom-made cables can be ordered, or reordered, in quantities as small as 300ft, while our hybrid designs can integrate a wide range of features such as fibre optics, coaxial, air/water hoses, etc. as well as support for future equipment upgrades.
We offer superior performance and longevity based on designs customized to your specific application (enhanced temperature, confined spaces, chemical resistance, high-performance flex / torsion, etc.)
Benefits of LEONI custom cables
We can offer the following benefits to our customers:
Higher reliability in extreme conditions
Longer cable lifetime
Less equipment downtime
Lower service and maintenance costs
Improved environmental compatibility
Faster amortization of equipment
Higher quality production processes and end products
Applications for custom cables
LEONI cables are used for a variety of applications, including:
Industrial machinery and drive systems
Robotics and cable tracks
Pick and place systems
Test, measurement and control
Assembly and handling technology
Surface mount technology
Wafer, LCD and solar panel production and inspection
Industry applications for custom cables
LEONI custom cables are used in industries such as:
Packaging and printing industry
Machine building and automation
Industrial robotics
Vacuum and clean room applications
Semiconductor industry
Remote-operated vehicles
You have successfully added from to your part list.
---