Leoni Custom Flat Cables: High-performance flat
Product Announcement from Leoni Elocab Ltd.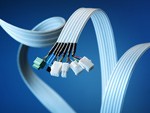 High-performance flat (HPF) cable
For applications requiring tens of millions of flex cycles at tight bend radii, LEONI has developed the high-performance flat (HPF) cable. Using special fluorpolymer materials, LEONI HPF cables can be designed for specific applications to exceed 100 million cycles at bend radii of 7.5 x cable OD.
LEONI HPF cables provide a wide variety of useful options. Hybrid designs can include many different components, including single wires, twisted pairs, coaxial cables, data cables such as Ethernet and FireWire, optical fibers, and even hoses or larger diameter copper wires for power supply.
Typical applications for LEONI HPF cables include:
Packaging and printing machines
Component insertion machines
Material handling robots
Chip handlers
Linear drives
---