Product Announcement from Leviton Manufacturing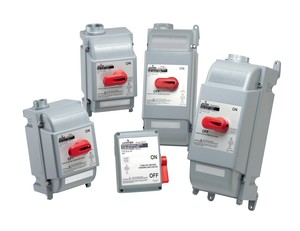 Leviton's has expanded its line of Power Switch™ Industrial Grade Switches with the addition of a new line of Safety Disconnect Switches. The line of Power Switch Industrial Grade Switches previously consisted of Motor Starter Switches (MSS) in 30, 40, and 60 Amp ratings and now also includes Safety Disconnect Switches in an IP65 Watertight 30 Amp Non-Fused Model and IP67 Watertight Non-Fused models in 60 and 100 Amp with Fused models in 30 and 60 Amp. Leviton's MSS Series Motor Starter Switches in metal NEMA 1 and NEMA 3R enclosures are suitable for a wide range of industrial MRO and OEM applications, including manual ON/OFF switching control of conveyor lines, machinery, air compressors, heaters, and other heavy manufacturing equipment. They are high priority, "Class A" inventory items ideal for well-equipped electrical maintenance shops. The new line of Safety Disconnect Switches (SDS) safeguards users by preventing the haphazard making/breaking "under load" of electrical connections. The compact 30 Amp non-fused model is ideal for tight spaces and smaller equipment lines. For safer servicing, the 30 Amp model's high visibility red handle can be locked and tagged in the OFF position, even when the cover is off. Fused models feature integrated, "finger-safe" fuse holders accepting "Class J" Time-Delay fuses. All Power Switch SDS's are supplied with 1 factory-installed auxiliary contact for remote line management and power monitoring. Space is provided for an additional auxiliary contact, maximizing the device's utility. The IP67 Watertight Disconnect Switches include a red "pistol grip" handle with integrated lockout that meets OSHA safety regulations and provides visual confirmation of the switch's status. For faster installation, SDS's feature generous wiring space and are supplied with pre-wired grounding plates connected to the factory-installed Liquid-tight hubs. A Leviton exclusive, the rugged bottom hinge mechanism pivots 180 degrees for easy access during installation and maintenance. Contact Leviton Manufacturing Company, 59-25 Little Neck Parkway, Little Neck, NY 11362, www.leviton.com.
You have successfully added from to your part list.
---