Accelerometer Calibration Services
Service Detail from Liberty Calibration Corps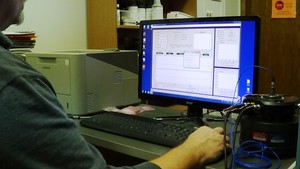 The Liberty Calibration Corps (Liberty Labs, Inc., World Cal, Inc., and ISOCAL Laboratories) are proud to announce the expansion of our electronic calibration services to now include accelerometers. We can calibrate accelerometers using our Model 9155 Accelerometer Calibration Workstation. Our calibration unit is portable and calibration can be performed onsite at the customer's site.
We calibrate the accelerometers using a back-to-back comparison of ICP (IEPE), charge mode piezoelectric, piezoresistive, capacitive, and velocity sensors in accordance with ISO 16063-21. We can test accelerometers from 5Hz to 15kHz using an air bearing shaker. We can measure Sensitivity, Amplitude, Phase, and Bias of the accelerometers. All calibrations are accredited under A2LA per ISO 17025.
Accelerometer calibration can be performed on most major brands of shock and vibration equipment including:
PCB Piezotronics, Endevco, Kistler, Dytran, Bruel & Kjaer, and more.
The following shock and vibration test equipment can be calibrated:
Single and Multiple-axis accelerometers (Piezoelectric, Piezoresistive & ICP Type and Charge Type)
FrequencyRange: 5Hz to 10kHz
Acceleration Levels: .1 to 10g
For more information, please contact:
Mark Langfield @ mlangfield@world-cal.com or Chia Lor @ clor@world-cal.com
World Cal, Inc. 2008 High Street, Elk Horn, IA 51531, PH: 712-764-2197, FAX: 712-764-2195
You have successfully added from to your part list.
---