CRYOLINE® IQF Tunnel Freezer: CRYOWAVE™
Product Announcement from Linde North America, Inc.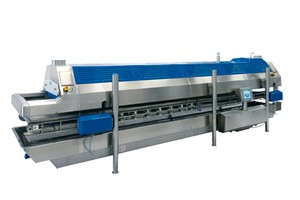 Linde North America, a leading supplier of cryogenic food freezing and chilling equipment, has just what food processing plants are looking for - unsurpassed value from state-of-the-art technology.
The CRYOLINE® CW is a multi-purpose cryogenic freezer that can switch between IQF and standard flat-belt tunnel modes. This freezer utilizes CRYOWAVE controllable wave motion technology, providing adjustable agitation and achieving optimal IQF, depending on product size and shape. Available in various model sizes, its unique modular design is suitable for small or large operations.
The CRYOLINE CW IQF Freezer consists of an insulated modular tunnel with stainless steel inner and outer walls, mounted on a steel frame with adjustable legs. The top cover raises and provides access to the tunnel interior for inspection and cleaning.

The entire length of the tunnel contains a system allowing the belt to be moved in a wave action, by controlling the amplitude and frequency.

There are many benefits of this tunnel freezer over other systems:
Lower cryogen costs
Small footprint
Modular design
For use with CO2 or nitrogen
Ability to freeze IQF or trayed products
Linde's CRYOLINE CW hygienic tunnel freezer is designed to freeze IQF (individually quick frozen) products, such as diced and sliced products, wings, and mechanically deboned product and any other small items that tend to clump or stick to belts. The freezer uses a proprietary, rolling wave action that gently tumbles layered products to maximize yield by minimizing fines loss and locking in moisture, a distinct competitive advantage over conventional flighted freezers.
"The CRYOLINE CW tunnel freezer is state-of-the-art IQF freezing technology," said Mark DiMaggio, Head of Food and Beverage Solutions "The dual-function freezer's patented, controllable, rolling wave action delivers the highest attainable IQF product throughput rate. The rolling wave action can also be turned off to change product application, such as freezing flat, trayed or formed products, providing flexibility for use."
Some additional potential uses for the CRYOLINE CW are pizza toppings, mushroom pieces, diced eggs, IQF Shrimp or Scallops, cooked diced chicken or turkey, taco meat, ice cream toppings, ravioli or tortellini, or any other product that would bring more value to your customers by being Individually Quick Frozen (IQF).
You have successfully added from to your part list.
---