Hercules RF, Heavy Duty Footswitch
Product Announcement from Linemaster Switch Corporation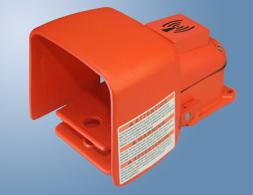 Hercules RF, Heavy Duty Footswitch - Full Shield Model
Environmental Ratings:
EN 60529 Degree of Protection IP68
FCC
Driptight - Dusttight - Watertight - Oiltight
Materials of Construction:
Treadle and housing constructed from cast iron for strength and durability
Protected by a strong cast aluminum Shield
Painted Alert Orange
Features & Benefits:
Removes clutter of wires under foot
IP68 fully submersible in water
Rugged cast metal enclosure has sufficient weight to keep the switch from sliding when being operated
All models have a neoprene cover gasket plus O-rings on the activating shaft and a separate ground screw
Heavy duty weather resistant construction for harsh environments
Momentary actuation Contacts: single pole, single throw, up to 16 amp service
Available in up to 3 switch functions
Multiple systems may be used in the same vicinity at the same time
40 foot range of RF Transmission
450 hours of battery life at 50% duty cycle
3 (AA) batteries required for Transmitter
3 holes provided for rigid mounting to the floor or equipment
Available for US and European service
LINEMASTER has entered the Radio Frequency market. The Linemaster trademark Hercules has gotten a new makeover and is now offered as an RF wireless unit. Designed to offer the freedom of wireless while keeping the heavy duty frame the Hercules offers. With up to 40 feet of range this heavy duty, waterproof is the solution for multiple applications.
Forget about the hassle of maneuvering around and replacing damaged cords when you switch to the RF Hercules. This switch retrofits to most existing applications that currently use a foot switch. The incredibly long battery life makes the transition form wired to wireless a snap. Available in various models the RF Wireless is the solution for you. Only from Linemaster - American mad innovation at work.
---