Product Announcement from Linseis Inc.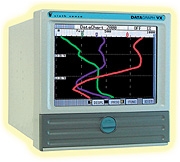 Touchscreen, videographic paperless recorder; 2, 4,6, and 12 channels
High speed sampling. Record as many as 8 samples per second -- ideal for recording process signals that change quickly, such as pressure
Brilliant color display. The 5.6" active matrix TFT touchscreen display is the largest in its class. With the special anti-glare coating, the viewability is second to none.
Economical. Available in a low-cost 2 input, monochrome display version
High capacity storage options. For recording large amounts of data choose the 100 megabyte Zip drive or the PCMCIA card drive option for a maximum storage capacity of 200 megabytes.
Communications. Use the optional RS-232C comm port and a modem to access and download data remotely. The RS-485 option allows installation of the VX into an existing Modbus network or you can connect up to 31 units in series. Connect to LANs and WANs with the ethernet port option; TCP/IP protocol means you can transfer data over the Internet
Software. Each Datagraph comes with free GetData export software. The optional Companion software has more extensive features, including data review and printing, remote functional & data access, recorder configuration and file export.
Two-year warranty. Protects you against factory defects
Datagraph VX Specifications (PDF Format)
Rapidly changing processes often necessitate a high sampling rate in order to provide a detailed data record. With a maximum record rate of 8 samples per second, the Sixth Sense Datagraph VX series provides high speed storage for applications with rapidly changing process variables such as pressure and flow.
The VX series is available with a vivid 5.6" color display or a more economical 5.0" monochrome display. It offers 2, 4, or 6 direct universal inputs as dc voltage, dc current (with external shunt resistor), 9 different types of thermocouples, or 6 types of RTDs.
Fast sampling capability calls for high capacity storage. The VX answers the call with the optional Zip disk drive option (50 million samples storage), or the flash memory card drive option (100 million samples max. storage). Recording a single input at 8 samples/second, a 1.44MB floppy diskette would fill in about one day of continuous recording. Contrast that to a 100MB zip disk, which would last over 72 days under the same recording conditions.
In addition to the RS-232 and RS-485 communication options, the VX can alternatively provide an ethernet port (10Base T) so data can be transferred over the Internet.
With the same display modes and IP65 bezel as the Datagraph VR series, the VX paperless chart recorder is the solution to applications requiring fast data acquisition, low channel count and low-cost.
Please click on the links to the right for more information or contact us today!
You have successfully added from to your part list.
---