Product Announcement from Liquid Controls Group; a Unit of IDEX Corporation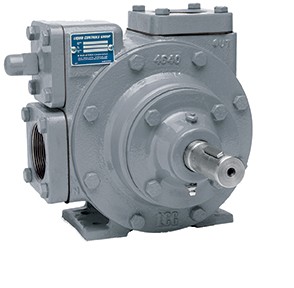 Positive Displacement Pumps - Truck Mounted Applications
Pumps for Refined Fuels, Alternative Fuels,Lube Oils and LPG
Materials of Construction
Includes:

Ductile Iron Case (Z-series, PZ-series)
Cast Iron Case (PT-series)
Ductile Iron Flanges (Z-series, PZ-series)
Cast Iron Flanges (PT-series)
Ductile Iron Rotor
Steel Shaft
Advanced Polymer Vanes
Seal Choices: Buna or Viton
Design Features
Coro-Vane® Truck Pumps
The Z-Series Coro-Vane® truck pumps are specifically designed to perform in such severe operating conditions as high differential pressure, pump overspeeding, poor suction conditions and heavy thrust loads associated with a power take-off (PTO) drive system.
PZ-Series Coro-Vane® Petroleum Pumps
The PZ-Series Coro-Vane® Petroleum pumps are a positive displacement vane design. They produce a maximum differential pressure of 125 psig (8.6 bar) and a maximum working pressure of 200 psi (13.8 bar). Corken manufactures two sizes of PZ-Series Coro-Vane® pumps with a capacity up to 160 gpm (605 L/min).
The PT-Series pumps are a special type of rotary positive displacement pump, known as a sliding vane pump. T
he sliding vane pump has many of the positive displacement advantages of the gear pump, plus the ability to compensate for wear, and operate at a lower noise level.
The sliding vane pump consists of a rotor turning inside a cam that is machined eccentrically in relation to the rotor. As the rotor turns, the liquid that is trapped between the rotor, cam and vanes is displaced.
The PT-Series pumps are made with vanes produced from advanced polymers which exhibit extremely low coefficients of friction. The self adjusting vanes compensate for wear and help extend the life of the pump.
From its start in 1956, Liquid Controls, a unit of IDEX Corporation (NYSE:IEX), has been dedicated to providing high quality flow meters and accessories for accurate liquid measurement in both custody transfer and process control applications.
Continuously branching out from the original military aircraft fueling requirement which gave us our start, we now serve a wide variety of industries.
Our manufacturing team is made of the most highly skilled craftspeople in the region, all working together each day to assure that personal care goes into each task that makes up an LC product.
We rely on a strong combination of in-house engineered designs and a network of strategically located factory authorized full service distributors to ensure that our customers around the world are supported with technology tailored to each industry's particular requirements.
Planned obsolescence has no part in our philosophy, and we at Liquid Controls are proud that our products, correctly installed and maintained, will provide years of dependable service.
Products:
You have successfully added from to your part list.
---