New SMF 200W Transient Voltage Suppression Diode
Product Announcement from Littelfuse, Inc.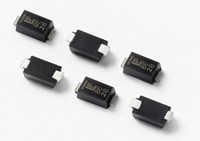 About the SMF Series 200W TVS Diode
Littelfuse, the global leader in circuit protection, today announced it had introduced the SMF Series 200W Low Profile Package Transient Voltage Suppression (TVS) Diode, designed specifically to protect sensitive electronic equipment from voltage transients induced by lighting or other transient voltage events.
The packaging of the new SMF Series 200W TVS Diode allows designers to optimize the use of circuit board space in surface mounted applications because its footprint is just half the size of SMA packages. With a maximum height profile of just 1.1mm and compact width and length dimensions, the SMF Series TVS Diode is good to use in compact design. It is compatible with the industry-standard SOD-123 plastic package.
Because of its compact size and 200W peak pulse power surge capability @10x1000µS waveform, the SMF Series 200W TVS Diode is an excellent choice for the protection of I/O interfaces, Vcc bus and other vulnerable circuits used in hard disk drives, portable devices, business machines, cellular phones, and many other industrial and consumer applications.
The SMF Series 200W TVS Diode provides excellent voltage clamping capability and a stand-off voltage range from 5V to 12V (13V to 54V will be available in Q3). It also offers a very fast response time, typically less than 1 nanosecond from 0V to the minimum breakdown voltage. It complies with important industry standards, including IEC 61000-4-2 level 4 (electrostatic discharge immunity) and IEC 61000-4-4 (EFT protection of data lines).
The SMF Series 200W TVS Diode has a SOD-123 plastic case over a glass-passivated chip junction. Its matte tin-plated leads are solderable per JESD22-B102D. To ensure that it is environmentally friendly, it is halogen free and RoHS compliant. Availability
SMF Series 200W Low Profile Package TVS Diode samples are available now for bulk orders; sample requests through authorized Littelfuse distributors worldwide. For a listing of Littelfuse distributors, please visit littelfuse.com. For more information about the SMF Series 200W Low Profile Package TVS Diode, click here.
You have successfully added from to your part list.
---