Space Saving Fuse Blocks
Product Announcement from Littelfuse, Inc.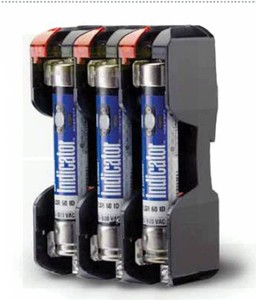 Saving Space with the Next Generation of Fuseblocks Littelfuse understands your challenge to constantly improve your products -that's why we developed a brand new line of next generation fuseblocks.
Introducing the LF Series Fuseblocks.
Smaller. More effi cient. More valuable to your customers.
These products meet your design and business objectives, provide value to your
customers and differentiate your products from the competition.
Smaller Footprint
Provides Space Savings
DIN-Rail Mounting
Eases Installation
Indication Improves
Functionality
Indication of Forward Thinking From the Indicator® pioneer comes another innovation-DIN-releasable, compact, indicating fuseblocks that feature modern design and universal mounting holes for drop-in replacement. We understand your products are a refl ection of your brand and expertise. That's why our latest innovation provides you more value.
Now that's what we call forward thinking. What would you do with more space? That's a great position to be in. Maybe you'll choose a smaller enclosure to realize cost savings.
Or use the room to add more features and differentiate your design from the competition.
Either way, you'll appreciate the added value of indication and a modern, clean design that
conveys high quality and professionalism to your customers.
DIN-Rail mounting on the new LF Series fuseblocks eases initial design layout and assembly time. With no additional hardware or holes to drill, the DIN mounting feature also speeds rework or design changes. Just snap and release the fuseblocks from the rails to make adjustments. The universal mounting holes eliminate the need to change existing back-panel layouts, making the Littelfuse LF Series fuseblocks the perfect choice for drop-in replacements.
See why Littelfuse is the number one supplier of fuses and holders in the HVAC industry. Download Technical Brochure
---