Pharamaceutical GMP coating environment
Service Detail from Lohmann Therapy Systems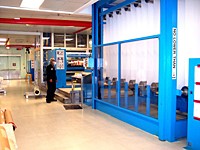 Lohmann Therapy Systems offers toll and custom coating services for the application of custom solvent-based or water-based coatings on substrates up to 67" (1702 mm.) wide and 0.125" (3.175 mm.) thick. Our facility is pharmaceutical GMP-compliant and equipped with three coating lines, three slitting machines, as well as various rewinding plus unwinding stations.

With an in-house R&D Department and a fully-equipped R&D lab, optimizing coating solutions to exactly suit your needs is not a problem for us. Our development services also include the ability to add active components such as antimicrobials to adhesive coatings. Coatings are applied by either knife over roll or reverse roll coating methods commonly handling solution viscosities ranging from 1000 to 8000 cps. Our coating capabilities are further enhanced by in-line corona treaters that can treat on one or both sides of the substrate in a single pass. Its 30-52 dyne/cm tension range provides exceptional adhesion.

Our extensive drying capabilities are supported by a drying oven with 14 independently controlled temperature zones that range from 86ºF-248ºF (30ºC- 120ºC) , allowing us to precisely dry your coatings to ensure optimal solvent retention. Coating services are offered for a large number of substrates, including PVC films, PE foams, and fabrics. Coatings on various substrates are available at different adhesion levels depending upon the particular application.
---