Braze™ Silver-Based Cadmium-Free Filler Metals
Product Announcement from Lucas Milhaupt Global Brazing Solutions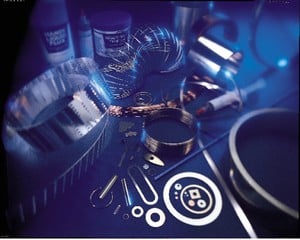 Silver-Based Cadmium-Free Filler Metals
These alloys are low-temperature, free-flowing filler metals for joining similar and dissimilar metals (i.e. copper to steel). They produce very strong, ductile joints and are safe because they are cadmium-free. Lucas-Milhaupt offers numerous material compositions for general purpose and specialty applications. The Braze family of alloys is available in strip, wire, powder, paste, preforms as well as clad tri-metal products and flux-cored wire.
Brazing is so universally used because it is economical, easy to do and produces strong leak-tight joints. It is also a flexible process that allows joining of both similar and dissimilar metals. In refigeration applications, much of the brazing involves joining copper tubing. However, there are numerous applications where other materials need to be joined (steel, stainless steel, carbide, ceramics, etc.) These high silver brazing alloys facilitate the joining of these materials.
You have successfully added from to your part list.
---