Lucas Milhaupt Nickel Brazing Alloys
Product Announcement from Lucas Milhaupt Global Brazing Solutions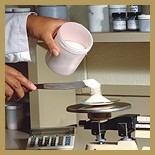 The Lucas Milhaupt family of Hi-Temp® Nickel (BNi) filler metals are used in a wide variety of aerospace applications and in applications for the joining of stainless steel and Ni based heat resistant alloys. The most common form of BNi braze alloys is as a powder combined with one of our Handy-Flo flux binder systems.
Nickel based filler metals are used to braze ferrous and nonferrous high temperature base metals. These braze filler metals are generally used for their strength, high temperature properties and resistance to corrosion. Some filler metals can be used up to 1800°F (980°C) for continuous service and 2200°F (1205°C) for short time service. Nickel based filler metals melt in the range of 1630 to 2200°F (890 to 1205°C), but can be used at the higher temperature due to diffusion of the melting point depressant elements from the filler metal into the base metal.
Joints made with nickel based filler metals tend to be more brittle than joints made with other filler metals. Care must be taken when using nickel filler metals containing boron on thin sections due to the erosive nature of the molten filler metal and the ability of this material to alloy with the base metal. Time and temperature must be monitored very carefully to prevent the molten filler metal from perforating the base metal.
You have successfully added from to your part list.
---