Sil-Fos® - The Original Copper/Phosphorus Alloy
Product Announcement from Lucas Milhaupt Global Brazing Solutions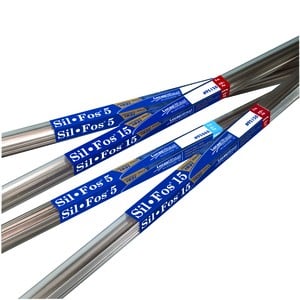 Silver/Copper/Phosphorus Alloys
Sil-Fos® alloys are Copper based filler metals that are self-fluxing on copper by virtue of their phosphorous content. Because of their self-fluxing nature, you save time and money by eliminating the steps necessary to flux a joint before brazing. However, copper alloys such as brass and bronze should be fluxed with Handy Flux or Sure Flo Brazing Flux to assure a sound braze joint.
While this filler metal is widely used in the air conditioning and plumbing industries, it is not recommended for ferrous or nickel based materials because the joint will become brittle and may fail. The Sil-Fos® Alloys vary in silver content from 18% to 2% and the percentage of silver and phosphorous does change the melt and flow characteristics of the filler metal. Sil-Fos® alloys are available in wire & rod, powder & paste, preformed rings and shapes. Some Sil-Fos® alloys are available in strip as well.
Sil-Fos 15 is the best alloy for general purpose copper-copper brazing in the Sil-Fos family. For copper-to-copper joints the phosphorus in the Sil-Fos product serves as the fluxing agent and no seperate flux is necessary. For brass application however, flux is recommended. For use where close fit-ups cannot be maintained Sil-Fos 15 works well to "bridge" gaps. Highest joint ductility of the entire Sil-Fos family to best withstand the stresses inherent in refrigeration applications.
You have successfully added from to your part list.
---