OmniCure® LX400 LED UV Spot Curing System
Product Announcement from Lumen Dynamics Group Inc.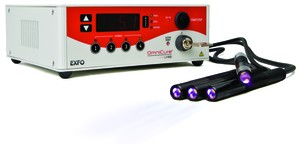 The OmniCure® LX400 is the newest member of the OmniCure® LX Series utilizing the latest in LED technology. It builds on the simplicity and ease-of-use that the OmniCure® LX Series has become known for. It also offers a versatility that few in the industry offer.
With patented Intelli-Lamp® technology applied to the LED head design, LED temperature and lamp life are monitored allowing for an optimized life guarantee of 10,000 hours of operation, or three years.
Highest Power LED Technology
With peak irradiance of 8,000mW/cm2 with the 365nm UV LED Heads, 9,500mW/cm2 at 385nm, and 9,000mW/cm2 at 400nm, as well as up to four LED Heads installed, the OmniCure® LX400 UV LED Curing System provides the highest power and most reliable UV LED technology currently available with variable UV power output. Where multiple LED Heads are required, irradiance on each head is uncompromised and consistent.
Versatile System
The OmniCure® LX400 offers the ability to control up to four UV LED Heads simultaneously or independently. This ability makes the product ideal for manufacturing setups where single or multiple foot pedals are needed to control multiple curing stations simultaneously. To enable a higher level of control, each UV LED Head can be set for different exposure times and intensity levels. The intensity levels for each head are set in 1% increments in a group or each head independently. The focusing lenses are replaceable. Such flexibility enables the OmniCure® LX400 users to change the lenses to accommodate the applications without the need to replace the UV LED Heads. This also reduces the downtime to reconfigure the OmniCure® LX400 for other applications.
Support for Multi-wavelength UV LED Heads
The OmniCure® LX400 controller can operate four UV LED Heads, each of different wavelengths (e.g. 365nm UV LED Head, 385nm UV LED Head, and 400nm UV LED Head). This is unique to the OmniCure® LX400 controller, setting it apart from other UV LED bonding systems available today. This enables it to accommodate more applications.
Highly Efficient LED Head Cooling
The LED Heads have been uniquely designed for highly efficient cooling to maximize continuous operation without over-heating. This will minimize costly downtime and extend the life of the LED Heads, resulting in low cost of ownership and convenience that can be relied on. Due to its superior design, if properly clamped, the head may be used continuously without over-heating.
Easy to Use
The OmniCure® LX400 can be set up and configured in minutes. This enables users to start using it in a very effective and efficient manner. With only three navigational mode buttons conveniently located on the front panel below the LED display, the system is simple to operate.
---