X-Cite® Optical Power Measurement System
Product Announcement from Lumen Dynamics Group Inc.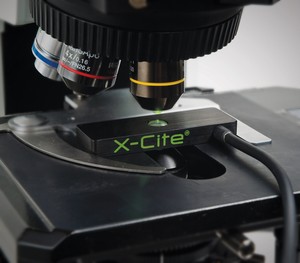 Designed with Microscopy in Mind
Engineered to fit in standard microscope slide clips, the low profile of the X-Cite® XP750 Objective Plane Power Sensor makes it ideal for use in the limited space between the objectives and stage on upright microscopes. On inverted microscopes, simply center the transmission light from above on the printed target to center the detection area over the objective lens. Working with dim ambient lighting? The backlit display on the X-Cite® XR2100 Power Meter ensures that readings are always legible.
Broad Dynamic Range
Calibrated for use at any wavelength between 320nm and 750nm, the X-Cite® XP750 is compatible with a full range of filters. With sensitivity to power levels from 5μW to 500mW, it is appropriate for applications using both low and high intensity illumination. This makes it suitable for use on standard, confocal, DSU and other microscope configurations.
Versatile & Convenient
Since the X-Cite® XP750 measures light right on the stage, it can be used with any epi-fluorescence light source including: HBO / mercury, metal halide or xenon lamps, lasers and LEDs. With hundreds of wavelength choices, the X-Cite® XR2100 allows you to define 'favorite wavelengths' to correspond to your most frequently used sources and filters.
Certified & Traceable
X-Cite® XR2100 and X-Cite® XP750 are calibrated according to a strict protocol using transfer standards traceable to NIST* and NRC**. For your records, certificates of calibration accompany each unit.
Repeatable – Take Control!
Consistency is essential for data integrity. By measuring and recording power output in absolute units (watts) with X-Cite®, you ensure that illumination levels used in an experiment can always be repeated, no matter how light sources, light guides, filters and other optical components change over time. This unique capability is critical for reducing post-experiment, image processing time; making accurate, quantitative image comparisons; and compiling complete, experiment documentation.
PC Communication
Enjoy the option of paperless record keeping. With the X-Cite® XR2100, you can store power measurements for downloading or logging them directly in the X-Cite® PC interface. Created especially for X-Cite® XP750, the 'power snapshot' tool allows you to collect and save data by wavelength, objective, and intensity. This ensures that you have a complete record of illuminating power for whichever combination of settings used when optimizing and acquiring images.
Essential Diagnostic Tool for Imaging Facilities
The X-Cite® Optical Power Meter System can service multiple microscopes and their light sources. In addition to standardizing illumination levels for experiments, the X-Cite® XR2100 is a vital diagnostic tool for imaging facilities, technical sales representatives and service centers, providing helpful optical output data for:
• Setting-up imaging systems – determining baseline performance
• Troubleshooting imaging systems by quantifying the effect of adjusting settings and servicing individual components
• Preventative maintenance – monitoring optical output over time to determine when components, such as lamps and light guides, require replacement
---