X-Cite® exacte
Product Announcement from Lumen Dynamics Group Inc.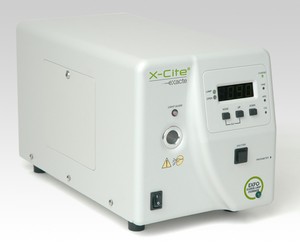 The Revolutionary New Light Source for Fluorescence Illumination - The X-Cite® exacte employs a DC-powered mercury lamp coupled with patented Closed-Loop Feedback technology to provide ultra-stable illumination, for imaging protocols lasting from milliseconds to days. With the X-Cite® Radiometer, light output can also be calibrated in absolute power units (watts), ensuring truly repeatable experiments.
The X-Cite® exacte has the convenience of pre-aligned, long-life lamps and easy installation combined with innovative functions in the newest generation of mercury arc fluorescence illuminators.
Setting a new standard. Stability. Control. Repeatability.
Features
DC lamp with Closed-Loop Feedback
Calibration via optional Radiometer
Adjustable Iris with 1% steps
Internal High Speed Shutter
Liquid Light Guide
Automatic Light Guide Detection
Pre-aligned, 2000 hour lamp
Intelli-Lamp® Technology
Computer Control & GUI
Benefits
Short and long-term intensity stability
Provides output in watts for consistent illumination and empirical repeatability
Intensity control limits photobleaching
Flexibility in configuring imaging systems for different applications
Excellent illumination uniformity, no heat transferred to microscope
Ensures proper/complete insertion of light guide to optimize performance and lifetime
Easy lamp replacement with no alignment required, lower running costs
Maintains optimum lamp temperature; tracks lamp hours
Enables computer-driven applications and stability data exporting
---