5.0 MP 14-bit Camera for High Sensitivity Imaging
Product Announcement from Lumenera Corporation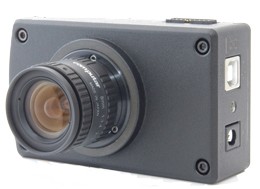 Ottawa, Ontario, Canada - September 14, 2011 -Lumenera Corporation, www.lumenera.com, a leading developer and manufacturer of high performance digital cameras and custom imaging solutions today introduced its new 5.0 megapixel USB 2.0 camera series for industrial and scientific imaging applications. Formulated with the Sony Super HAD ICX655 CCD sensor, the Lw560 and Lw565 feature a 2448 x 2048 resolution and selectable 8 or 14-bit output, providing exceptional color images in the visible and Near Infrared (NIR) light spectrum.
Lumenera's Lw560 and Lw565 digital cameras are designed to be a versatile solution for a wide variety of applications requiring high sensitivity along with vivid color reproduction such as traffic, machine vision, 3D biometrics, ophthalmology and low light imaging. With interline transfer, progressive scan, fully global electronic shutter and a short image integration time, this camera captures high-speed motion images with the least chance of blur with shorter exposure times. Region of Interest (ROI) and binning modes allow the camera to run at faster frame rates (23 fps at 640 x 480) without comprising the quality of the image.
"Lumenera is among the select few manufacturer across the globe implementing the Sony ICX655 sensor with its USB 2.0 camera - a technology that built a reputation for being the quickest to integrate and easiest to design into an embedded environment." says Darren Bessette, Product Manager at Lumenera. "By utilizing this sensor technology the Lw560 and Lw565 will be sure to set a new standard for low light imaging applications where high sensitivity and vivid color reproduction is of the utmost importance."
The Lw560 is a board level camera module ideally suited for custom and OEM imaging applications, while the Lw565 is a fully enclosed camera available off-the-shelf. Either solution can be modified to suit specific budgetary or project requirements. Some common examples of customizations include optimizing color correction matrices that target specific colors of importance, fully customizable enclosures and/or unique lens controller circuitry. These cameras are also available with a scientific-grade option that is well matched for collimated light applications such as ophthalmology.
This new USB 2.0 camera series features powerful onboard processing to deliver optimal image quality. A USB 2.0 interface eliminates the need for framegrabbers, and provides plug-and-play ease of use. As with all of Lumenera's USB cameras, a complete Software Developer's Kit (SDK) is available to quickly integrate camera functions into OEM applications, and includes support for Standard Windows API, Windows .NET and DirectX. The Lw560 and Lw565 and its variants are fully compatible with Lumenera's existing LuCam API interface and software.
The camera series, available in color or monochrome, is now available. Contact info@lumenera.com with your imaging requirements or visit the Lumenera website at www.lumenera.com for more information.
About Lumenera
Lumenera Corporation, a division of Roper Industries, and headquartered in Ottawa, Canada, is a leading developer and manufacturer of high performance digital cameras and custom imaging solutions. Lumenera cameras are used worldwide in a diverse range of industrial, scientific and security applications.
Lumenera solutions provide unique combinations of speed, resolution and sensitivity in order to satisfy the most demanding digital imaging requirements. Lumenera customers achieve the benefit of superior price to performance ratios and faster time to market with the company's commitment to high quality, cost effective product solutions. For further information about Lumenera, please visit www.lumenera.com or call 613-736-4077. To receive Lumenera press releases as they are issued, contact us at marketing@lumenera.com.
---