High Resolution Digital CCD Microscopy Camera
Product Announcement from Lumenera Corporation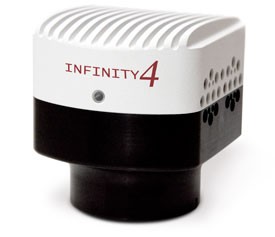 Lumenera's INFINITY4-11 digital CCD camera is based on the Kodak KAI-11002 progressive scan CCD sensor. Matching the field of view of a 35mm camera with a 43.3mm diagonal, and boasting superior color reproduction, this camera is ideal for high-end scientific, industrial, medical, ophthalmic and life science applications.
The camera's adaptability to varying resolution and frame rate requirements, combined with low noise performance and 8 or 12-bit pixel data mode, make the INFINITY4-11 an ideal camera for both live and fixed cell imaging. Live video preview allows for real-time focus, while auto exposure and auto/manual white balance efficiently capture your optimal image. A high-speed USB 2.0 interface eliminates the need for a framegrabber and provides "plug & play" ease of use. The INFINITY4-11is offered with both color and monochrome capability and is fully supported by Lumenera's INFINITY CAPTURE and INFINITY ANALYZE software. Advanced camera control is available through a Software Developer's Kit, while TWAIN and DIRECTX drivers ensure integration and compatibility with a variety of 3rd party software applications.
Features:
Large format 10.7 megapixel CCD sensor
Excellent sensitivity with high fidelity color reproduction
Custom coupler for all microscope models now available
Progressive scan with electronic global shutter
High-speed USB 2.0 interface eliminates a framegrabber and facilitates ease of installation on both laptop and desktop computers
Ideal for the most demanding brightfield and darkfield microscopy applications, including clinical pathology and cytology, histology, life science and geology
Full color sub-windowing allows for rapid focus and scanning of samples: 3.5 fps at full 4008X2672 resolution, 60 fps with binning and reduced preview resolution
Selectable 8 and 12-bit pixel data modes
MAC compatible
The RGB data captured through each pixel contains 36-bits of color image information resulting in 4096 intensity values
Capture high quality images with INFINITY ANALYZE - an advanced image capture, measurement and processing software package
The INFINITY4-11 has a compact design equipped with an F-Mount, facilitating installation on all microscope configurations including upright, inverted and stereo (with coupler)
INFINITY4-11 cameras are software compatible with Windows 2K, Windows XP, Windows Vista and Mac OS 10.4 operating systems
Full one (1) year warranty
Camera Sensor Specifications:
Image Sensor: 35mm Large Format Interline Kodak KAI11002 10.7 megapixel color or mono progressive scan CCD sensor
Effective Pixels: 4008 x 2672, 9µm square pixels
Frame Rate: 3.5 fps at 4008X2672, higher with binning and ROI
Dynamic Range: 65dB
Digital Output: 8 and 12-bit uncompressed
Read Noise: 20 e- rms
Camera Controls:
Integration Time: 1/5000 to 364 ms.
Shutter: Progressive Scan
Auto Exposure: Automatic / Manual
White Balance: Automatic / Manual
Gain: Programmable / 1 to 10X
Lens Mount: F-Mount lens adapter
Dimensions (L x W x H): 3.50" x 3.85" x 4.09" Mass ~940g
Power Requirement: External 12VDC - 2A
Power Consumption: ~18.7Watts
Operating Temperature: 0° C to +50° C
Operating Humidity: 5%-95%, Non-condensing
View other scientific cameras from Lumenera Corporation.
About Lumenera Corporation:
Lumenera Corporation is a leading developer and manufacturer of high performance digital cameras and custom imaging solutions which are used worldwide in a diverse range of industrial, scientific and security applications.
Please click on the links to the right or contact Lumenera Corporation today for more information.
---