Lm085 VGA SMALL FORM FACTOR CAMERA
Product Announcement from Lumenera Corporation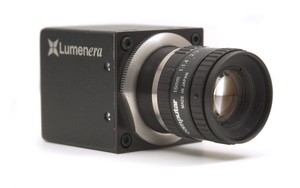 The Lm085 is Lumenera's newest small form factor camera. The Lm085 mini USB 2.0 camera is well suited for challenging industrial applications with uncontrolled lighting conditions, tight space constraints, and those requiring industrial locking connectors.
An ultra-wide dynamic range makes the Lm085 an ideal choice for applications with variable lighting conditions, as this camera can provide a dynamic range of 100dB.
The Lm085's small form factor of 44x44x56mm and robust mechanicals are well suited for conditions where the camera is under sustained vibration, fatigue, and stress from conveyor lines, mechanical arms, mobile vehicles, or gantries that introduce shock and vibration. An electronic global shutter eliminates the smear effect generated by moving objects, while the locking mini USB and RJ45 GPI/O connectors keep cables reliably attached to the camera back plate even in challenging conditions.
When high throughput is essential, the Lm085 provides 60 fps at full 752x480 resolution, and over 100 fps at 376x240 binning mode.
Uncompressed images in live streaming video and still image capture are provided across a mini USB 2.0 digital interface. No framegrabber is required. Advanced camera control is available through a complete Software Developer's Kit (SDK), with sample code available to quickly integrate camera functions into OEM applications.
Hardware and software based synchronization trigger is provided standard. 32 MB on-board memory is available for frame buffering.
All Lumenera products are supported by an experienced team of software developers and application engineers. We understand your imaging needs and are here to help you with your integration and development.
- Ultra-wide dynamic range of 100dB - Small form factor measuring 44x44x56mm - Locking industrial mini USB and RJ45 GPI/O connector for control of peripherals and synchronization of lighting - Color or monochrome, progressive scan wide VGA CMOS sensor - 32 MB RAM to buffer frames - Excellent sensitivity in the visible and NIR Spectrums - Simplified cabling - video, power and full camera control over a single mini USB cable - 3 software configurable bidirectional I/O ports and 2 optically isolated ports (1in/1out) - 8 mounting points close to the front edge - Tripod mount included - Binning and Region of Interest (ROI) options improve sensitivity and provide higher frame rates - Selectable bit depth of 8 or 10-bit - FCC Class B, CE Certified - DirectShow compatible - USB cameras are software compatible with Windows 2K, Windows XP, and Windows Vista operating systems - Complete SDK available - Full one (1) year warranty
You have successfully added from to your part list.
---