Lm11059 11 Megapixel High Resolution Camera
Product Announcement from Lumenera Corporation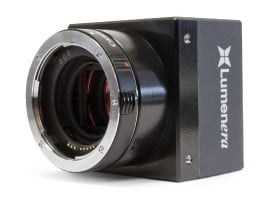 High Resolution CCD Sensor with Global Shutter
Lumenera's progressive scan Lm11059 digital camera is built for rugged 24/7 use. A proven high resolution 35 mm large format CCD sensor with a fully global electronic shutter captures excellent quality, high-speed images with zero chance of blur. Completely integrated Canon EF lens controller offers increased longevity and durability.
High Quality Images for Difficult Lighting Environments
The high quality CCD sensor provides both monochrome and vivid color images for the most demanding environments. Full streaming uncompressed video and still image captures are easily controlled through a set of stable and reliable USB device drivers. Region of interest and binning modes allow the camera to run at faster frame rates while only providing the image data you need. Image capture synchronization is achievable using either a hardware or software trigger and is complemented by 32 MB of on board memory for frame buffering to ensure image delivery.
Plug n' Play with No Framegrabber
The light weight design of the Lm11059, measuring 76.2 x 76.2 x 82.6 mm, ensures easy integration into tight spaces and enclosures. The fully locking USB 2.0 cabling, power connector and digital interface ensure a simple plug-and-play installation. No framegrabber is required. Simplified I/O cabling is provided through a locking Hirose connector supporting 2 output, 2 input and 2 software configurable I/O ports.
Maximize Camera Performance Within Your Own Application
The Lumenera Camera SDK provides a full suite of features and functions that allow you to maximize the camera's performance within your own vision application. The SDK is compatible with all of our USB and GigE-based cameras. Microsoft DirectX/DirectShow, Windows API and .NET API interfaces are provided, allowing you the choice of application development environments from C/C++ to VB.NET or C#.NET. Full inline IntelliSense autocompletion and documentation is provided with the .NET API interface and is accompanied by a full API manual describing all camera functions and properties.
Product Highlights
High color accuracy
4008 x 2672 resolution (10.7 million pixels) for fine attention to details
Selectable 14-bit ADC allowing more quantitative image analysis
Proven, high quality Kodak KAI-11002 CCD sensor for excellent sensitivity and color reproduction
Fully locking connectors including Hirose GPI/O connectors
Integrated Canon bayonet mount and lens controller
Ordering Options
Lm11059C — 10.7 Megapixel Enclosed Color Camera
Lm11059M — 10.7 Megapixel Enclosed Monochrome Camera
LuSDKSW — Software Developer's Kit (Web Download)
LuSDK-DVD — Software Developer's Kit (DVD)
Technical Specifications
Image Sensor
Kodak KIA-11002, CCD, Color or Mono, progressive scan
Optical Format
9.0 x 9.0 µm
Frame Rate
4.3 fps at full resolution
13.7 fps at 640 x 480 (with ROI)
Sensitivity
Excellent
Auto Exposure
Manual and automatic control
White Balance
Manual and automatic control
Dynamic Range
66 dB
Dimensions (W x H x D)
76.2 x 76.2 x 82.6 mm
3.0 x 3.0 x 3.25 inch
Mass
~850 g
Power Requirement
Locking 12 V DC power supply (included)
Power Consumption
6 W
Operating Temperature
0 to 50°C
Operating Humidity
5 to 95%, Non-condensing
Data Interface
USB 2.0, locking connector
Lens Mount (Lens not included)
Canon EF mount
You have successfully added from to your part list.
---