Lu105 - 1.3 MEGAPIXEL USB 2.0 CAMERAS
Product Announcement from Lumenera Corporation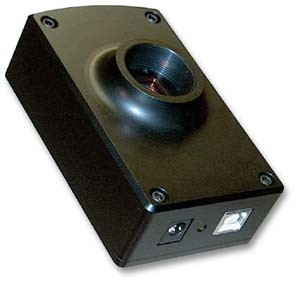 Lumenera's Lu100 series of megapixel cameras are designed to be used in a wide variety of applications. Both color and monochrome product models are available, as well as board-level variant.
With 1280x1024 pixels and on-board processing these cameras deliver outstanding image quality and value for industrial and scientific imaging applications, and provide 15 fps at full resolution.
Uncompressed images in live streaming video and still image capture are provided across a USB 2.0 digital interface. No framegrabber is required. Advanced camera control is available through a complete Software Developer's Kit, with sample code available to quickly integrate camera functions into OEM applications.
Hardware and software based synchronization trigger is provided standard. Lu100 model cameras are offered in both enclosed and board-level form. Custom form factor (sizes) can be provided.
All Lumenera products are supported by an experienced team of software developers and application engineers. We understand your imaging needs and are here to help you with your integration and development. Products come with a full one (1) year warranty.
- Color or monochrome, progressive scan, 1.3 Megapixel sensor - high-speed USB 2.0 (480Mbits/sec) - 15 fps at full 1280x1024 resolution - 30 fps at 640x480 (sub-sampled) - Higher frame rate in sub-sampled mode - Full sub-window control - Auto White Balance & Auto Exposure - Snapshot mode for use with strobe - GPI/Os for control of peripherals and synchronization of lighting (4in/4out) - FCC Class B, CE Ready - RGB Bayer video output - Select 8 or 10-bit pixel data - Simplified cabling - video, power and full camera control over a single USB cable - DirectShow compatible - C-Mount provided - USB cameras are software compatible with Windows™ 98 SE, Windows ME, Windows 2K and Windows XP operating systems - Complete SDK available
---