Lu1170 CMOS Board Level Camera Module
Product Announcement from Lumenera Corporation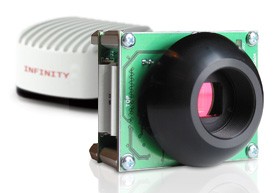 With 1280x1024 resolution and on-board processing, the Lu1170 delivers outstanding image quality for a wide variety of scientific OEM applications.
Live video preview provides for real-time focus, while auto exposure and auto white balance efficiently capture your optimal image over a USB 2.0 digital interface. USB 2.0 digital interface ensures a simple plug-and-play installation — and one standard cable minimizes camera clutter. Hardware and software based synchronization trigger is available as an option provided. On-board memory is available for frame buffering. These board level camera modules are also offered in custom enclosures (Lu1175), as well as custom form factors and configurations.
Lu1170 is supported by an experienced team of technical support and imaging experts. We understand your imaging needs and are here to help you get the most out of your camera. Contact us with your next instrumentation project.
Product Highlights:
Low noise, progressive scan 1.3 megapixel CMOS image sensor
Crisp color quality for the most demanding brightfield and darkfield microscopy applications including clinical pathology and cytology, life science and geology
Stable, reliable camera drivers for running multiple cameras on a PC or other USB devices
30 fps at full 1280x1024 resolution and 60 fps at 640x480 resolution
Faster frame rates with reduced region of interest
Odering Options:
Lu1170M — 1.3 Megapixel Board Level OEM Monochrome CMOS Camera Module
Lu1175M — 1.3 Megapixel Enclosed Monochrome CMOS OEM Camera
LuSDK — Software Developer's Kit
---