Lw130R Low Noise Camera for OEM Applications
Product Announcement from Lumenera Corporation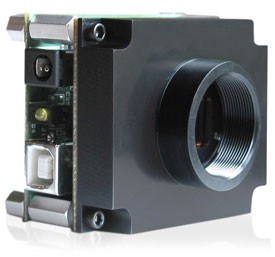 Low Noise CCD Sensor with Global Shutter
Lumenera's and Lw135R digital cameras have improved noise performance over their predecessors. These redesigned research-grade cameras accumulate very little dark current noise making them ideal for OEM applications that require long integration times including gel documentation, microplate readers, PCR, cell counting and machine vision. High sensitivity allows these cameras to be deployed in the most light-challenged applications. With a fully global electronic shutter and small image integration time, this camera can capture high-speed motion images with no blur. The scientific grade option (-SCI) is built under a strictly controlled clean room environment to ensure that there are no visible defects found in the optical path. This is a key requirement for applications using collimated light sources, including custom and OEM microscopy. Board level (Lw135R) as well as custom form factors also available.
Vivid Color and NIR Streaming Video Control
The Lw135R utilizes a high quality CCD sensor providing great color images in the visible light spectrum, while still being sensitive in the Near Infrared (NIR) (with the -WOIR option). Full streaming of uncompressed video along with still image captures are easily controlled through a set of stable, reliable USB device drivers. Region of interest and binning modes allow the camera to run at faster frame rates while only providing the image data you need. Image capture synchronization is achievable using either a hardware or software trigger and is complemented by 32 MB of onboard memory for frame buffering to ensure delivery of each image to your application.
Maximize Camera Performance with Your Own Vision Application
The Lumenera Camera SDK provides a full suite of features and functions that allow you to maximize the performance of your camera within your application. The SDK is compatible with all USB and GigE-based cameras. Microsoft DirectX/DirectShow, Windows API and .NET API interfaces are provided allowing you the choice of application development environments from C/C++ to VB.NET or C#.NET. Full inline IntelliSense autocompletion and documentation is provided with the .NET API interface and is accompanied by a full API manual describing all the camera functions and properties.
Highlights:
High quality CCD sensor
Incredibly low dark current noise in an uncooled camera
Color or monochrome, interline transfer progressive scan, 1.4 megapixel CCD sensor
15 fps at full 1392 x 1040 resolution, 22 fps at 640 x 480
Binning and Region of Interest (ROI) options improve sensitivity and provide higher frame rates
Ordering Options:
Lw130RC — 1.4 Megapixel Color Research-Grade Camera Module
Lw130RM — 1.4 Megapixel Monochrome Research-Grade Camera Module
Lw135RC — 1.4 Megapixel Enclosed Research-Grade Color Camera
Lw135RM — 1.4 Megapixel Enclosed Research-Grade Monochrome Camera
LuSDK — Software Developer's Kit
Technical Specifications:
Image Sensor
½" Interline Sony ICX205, color or mono, progressive scan CCD sensor,
7.6 x 6.2 mm array
Effective Pixels
1392 x 1040, 4.65 μm square pixels
Frame Rate
15 fps at 1392 x 1040, 22 fps with binning (2 to 4 x)
Sensitivity
2.5 DN(nJ/cm2) [at 8-bit, 1 x gains]
Dynamic Range
60 dB
White balance
Manual
Exposure
Manual
Dimensions (WxHxD)
12.250 x 3.850 x 1.374 inch / 50.8 x 63.5 x 42.9 mm (board level)
Mass
~130g (board level)
Power Requirement
USB bus, optional external 5 V DC, 500 mA (not included)
Power Consumption
~2.5 W
Operating Temperature
0 to +50°C
Operating Humidity
5 to 95 %, non-condensing
Interface Connector
Standard USB cable
Lens Mount


(Lens not included)

C-mount (CS-mount option)
You have successfully added from to your part list.
---