120 Volt AC LED Panel Indicator
Product Announcement from ITW Electronic Component Solutions - Lumex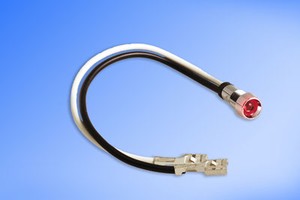 Lumex announces the global launch of the QuasarBrite™ family of panel mount indicator LEDs with hundreds of standard technologies and expedited custom capabilities. The family features a 120V-AC LED that eliminates the need for AC to DC transformers thereby generating significant cost and space savings.
Panel mount indicator LEDs have several important advantages over alternative technologies such as incandescent bulbs. They can last up to 10 times longer, use 90% less energy, are more durable, shock and temperature resistant, and provide quicker on/off performance.
120V- AC LED
Part of the QuasarBrite family of Panel Mount Indicators, the QuasarBrite 120V-AC LED eliminates the need for AC to DC power conversion as it operates with 120V-AC power that can be taken directly out of the main power source. Eliminating the need for an AC to DC power transformer can generate up to 50% savings in real estate space. This real estate and part savings, combined with LEDs longer lifespan and enhanced durability when compared to alternative technologies such as incandescent bulbs, can also lead to up to 70% cost savings.
The QuasarBrite 120V-AC LED is designed for optimal performance in a wide range of challenging environments including:
· green energy technology (including monitors on solar panel and wind turbine equipment);
· industrial control applications (including gas and liquid flow meters, thermal test chambers, and signaling devices.);
· commercial appliance applications (including any indicators on appliances);
· communications equipment (including network routers, switches and video servers).
The QuasarBrite 120V-AC LED is available in a round configuration with a 7mm diameter, however this configuration can also be customized with wire lengths ranging from 6 inches to 6 feet and with a variety of connector options with minimal tooling. Custom technologies are also available with quick turn around time and are very cost effective for mid- to large-quantity orders. Available in blue, white, red, yellow and green color varieties, the RoHs compliant QuasarBrite 120V-AC panel mount indicator LEDs are available from $2.50 per unit in production quantities with lead times ranging from eight to ten weeks for standard or custom technologies.
QuasarBrite Family of Panel Mount Indicators
The QuasarBrite family of panel mount indicators consists of hundreds of standard LED technologies in round, square or rectangular formats with diameters ranging from 3mm to 20mm, with rubber, black anodize, plastic or chrome housing, and cable lengths between 6inches to 6 feet . Color options include blue, white, red, yellow and green.
In addition to an extensive variety of standard technologies, Lumex provides cost-effective custom solutions with speed unmatched in the market today.
"What truly differentiates Lumex as a provider of LED panel mount indicators is not only the quality of our standard products but the ease, speed and cost-effectiveness of our custom technologies," explained Steve Sievers, Product Development Manager at Lumex. "Due to slight but precise variations from project to project, design engineers often require custom technology suited to meet their exact specifications and design needs. Lumex provides unmatched speed and expert technical support in working with customers to create a cost-effective solution designed to meet their precise needs."
Custom and standard QuasarBrite panel mount incidators are well-suited for a wide variety of applications including panel illumination, automotive accent lighting, and small space lighting, as well as indication for control panels, user-interfaces and warning lights.
###
Photography
IMAGE: QuasarBrite120VACLEDPanelMountIndicator.jpg
SAMPLE CAPTION: The QuasarBrite 120V-AC LED eliminates the need for AC to DC transformers thereby generating significant cost and space savings.
Lumex Contact Information
For additional information or engineering assistance:
In North America and Europe, contact Lumex's Sales Department, 290 E. Helen Rd., Palatine, IL 60067 USA. Phone: 1-800-278-5666. FAX: 1-847-359-8904. E-mail: lmxsales@lumex.com Web: www.lumex.com.
In Asia, contact Lumex's Asian Pacific Headquarters at 3F, No. 972, Sec. 4, Chung Hsing Rd., Chu Dung, Hsin Chu County, Taiwan, ROC. Phone: +886-3-582-1124. FAX: +886-3-582-1154. Web (in Chinese): www.lumex.com.tw
About Lumex
For over 30 years, Lumex, a member of the ITW Photonics Group, has been a global leader in the optoelectronics industry. With the broadest range of high efficiency, high performance LEDs and LCDs in the industry, Lumex provides thousands of standard products and specializes in semi-custom and custom designs. Lumex's optical range encompasses a wide spectrum including UV, visible and infrared wavelengths. Lumex's team of Technical Design Specialists are experts in collaboratively developing effective, smart solutions from the most complex design dilemmas.
Lumex has a global footprint with the worldwide headquarters outside Chicago and the Asian headquarters in Taiwan. With manufacturing capabilities in the United States, China, Taiwan and Thailand, Lumex is able to support over 23 end markets with more than 80,000 customers both directly and through our distribution channel partners. Lumex received its initial ISO 9001 registration in 1996.
About the ITW Photonics Group
The ITW Photonics Group was created to bring together and build on the technical expertise of individual companies that specialize in photonics technology and span the full spectrum of wavelengths. The group consists of:
• Lumex - LED and LCD technology
• Cal Sensors - IR Detector and Emitter technology
• Opto Diode Corp - LED, Silicon Photodiodes and Electro-Optical Assembly technology
The synergy of these three industry front-runners provides an unsurpassed range of photonic capabilities within a broad spectrum of markets, including medical, military and industrial controls. The ITW Photonics Group provides integrated solutions that encompass the technology and experience from all three business units, offering design engineers higher performance with greater feature enhancements. For more information on the ITW Photonics Group, go to www.itwphotonicsgroup.com
Editorial Contact:
Alicia Colligan, Colligan Communications
Phone: +1 310 878 4602
Email: alicia.colligan@colligancommunications.com
You have successfully added from to your part list.
---