Agricultural LED Lightbars
Product Announcement from ITW Electronic Component Solutions - Lumex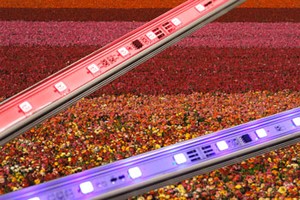 Agricultural LED Lightbars Provide Key Performance Enhancements
Lumex announces the global launch of its SunBrite Agricultural LED Lightbar for optimal plant growth stimulation. Available in both red and blue wavelengths for diverse plant types and growing cycles, the SunBrite Agricultural LED Lightbar offers significant performance and cost benefits compared to high-intensity discharge (HID) and alternative LED technologies.
The new technology can generate up to 93% more efficient light absorption, 50% space savings and 80% cost savings compared to some HID technologies. Due to its efficient design, the SunBrite Agricultural LED Lightbar can be up to 20% more compact in size and 20% more cost-effective than alternative agricultural LED technologies.
The new shapeable LED backlight also generates cost savings at prices up to 30% less expensive than electroluminescent (EL) and 50% less expensive than fiber optic backlights.
Compared to HID technologies such as metal halide and high pressure sodium (HPS) solutions, LED lightbars offer key performance benefits in the areas of efficiency and ease-of-use for a wide range of agricultural applications including: horticulture, greenhouse, gardening, planting and seeding.
Enhanced Efficiency
The SunBrite Agricultural LED Lightbar provides significant efficiency enhancements in the areas of light absorption, power consumption and space allocation.
Academic research has demonstrated that optimal light exposure for chlorophyll absorption is obtained when plants are exposed to red (640 to 660 nm) and blue (450nm) light sources. LEDs offer full spectral composition control, ensuring that nearly 100% of emitted light waves are fined tuned to match the absorption wavelengths of chlorophyll compared to HPS technology where only 7% of the light created is absorbed by plants. Because LEDs offer 93% more efficient light absorption than HPS technology, use of fertilizers and other plant food can be significantly reduced, generating cost savings and minimizing the use of chemicals.
LEDs also allow for enhanced efficiency in the area of power consumption as the technology consumes up to 80% less energy than some HID technologies.
Space savings are generated due to the reduced heat output and compact design of the SunBrite Agricultural LED Lightbar. Unlike HPS technologies, LEDs do not require ballasts and also generate up to 75% less heat output, eliminating the need for space-consuming cooling systems and venting and reducing space requirements by as much as 50%.
Ease-Of-Use
The operating ease, longer lifespan and ease-of-installation of the new LED lightbars also provide significant performance enhancements compared to alternative technologies.
The SunBrite Agricultural LED Lightbar can be easily incorporated into programmable, digitally controlled systems that allow for red and blue light arrays to be zoned and controlled in order meet the specific light requirements of different types of plants and different stages in the growing process (that respond better to blue or red light, respectively). Also, unlike emerging technologies such as Light Emitting Plasma (LEP), LEDs also offer instant turn-on for greater operating ease.
Ease of use is further supported by the long lifespan of agricultural LED lightbars which can last up to 4x longer than HID technologies and reduce maintenance time requirements by up to 75%.
The SunBrite Agricultural LED Lightbar also comes with three unique mounting clip options and optional transformer for easy plug-and-play performance.
Lumex Contact Information
?
For additional information or engineering assistance:
In the Americas and Europe, contact Lumex's Sales Department, 425 N. Gary Avenue, Carol Stream, IL 60188 USA. Phone: 1-800-278-5666. FAX: 1-630-315-2152. E-mail: lmxsales@lumex.com Web: www.lumex.com.
In Asia, contact Lumex's Asian Pacific Headquarters at 3F, No. 972, Sec. 4, Chung Hsing Rd., Chu Dung, Hsin Chu County, Taiwan, ROC. Phone: +886-3-582-1124. FAX: +886-3-582-1154. Web (in Chinese): www.lumex.com.tw
About Lumex
For over 30 years Lumex has been a global leader in the optoelectronics industry, with the broadest range of high efficiency, high performance LEDs and LCDs in the industry. With thousands of standard products and a focus on semi-custom and custom designs, Lumex is a valuable resource for quality and innovation. Lumex's optical range encompasses a wide spectrum including UV, visible and infrared wavelengths. Lumex's team of Technical Design Specialists are experts in collaboratively developing effective, smart solutions from the most complex design dilemmas.
??
Lumex has a global footprint with the worldwide headquarters outside Chicago and the Asian headquarters in Taiwan. With manufacturing capabilities in the United States, China, Taiwan and Thailand, Lumex is able to support over 23 end markets with more than 80,000 customers both directly and through our distribution channel partners. Over the last 30 years, the name Lumex has become synonymous with quality and performance around the world.
Lumex is a proud member of the Electronic Components Industry Association (ECIA).
About ITW Photonics Group?
The ITW Photonics Group was created to bring together and build on the technical expertise of individual companies that specialize in photonics technology and span the full spectrum of wavelengths. The group consists of:
Lumex - LED and LCD technology?
Cal Sensors - IR Detector and Emitter technology?
ITW Linx - Communications Products / Surge Protection Techology?
Opto Diode Corp - LED, Silicon Photodiodes and Electro-Optical Assembly technology
The synergy of these industry front-runners provides an unsurpassed range of photonic capabilities within a broad spectrum of markets, including medical, military and industrial controls. The ITW Photonics Group provides integrated solutions that encompass the technology and experience from all three business units, offering design engineers higher performance with greater feature enhancements.
###

You have successfully added from to your part list.
---