Product Announcement from Lumex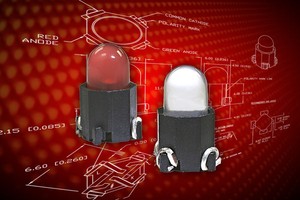 OctoLEDs deliver a brightness level of up to 7,000mcd (dependent on color). This is a market first from any conventional SMT LED driven by the If of 20mA. Learn more.
Lumex OctoLEDs™ patent-pending devices are the result of a manufacturing breakthrough, which makes Lumex the first to offer this class of surface-mount LEDs. "Most assemblies are now moving toward SMT technology. This design would be a direct replacement to standard 5mm through-hole LEDs. Lumex OctoLEDs™ are ideal for any design that is transitioning from through-hole to SMT technology, without sacrificing any of the intensity," says Jeff Oliveros, Director of Engineering for Lumex.
Lumex OctoLEDs™ (Series Number SML-H1505xxx-TR) can be used anywhere the convenience of surface mounting is required, with the high brightness, color and viewing angle choices of standard T-5mm LEDs. Such applications include front panel, PCB status or fault indicators, as well as light bars or dot matrix arrays where each LED needs to be individually-addressable.
Not only do these new LEDs provide the mounting and assembly convenience of surface-mount technology, they also deliver a high brightness level of up to 7,000mcd (dependent on color) It is the first time that this degree of brightness has ever been available from any conventional SMT LED running at the common If of 20mA.
Lumex OctoLEDs™ are available in the full range of colors including red, yellow, green, blue, or white. Bi-color as well as RGB versions are also offered. The available variety of lens finishes opens the door to different viewing angle options.
These new units can withstand soldering temperatures of up to 10 seconds at 255º C. A gradual temperature rise of 2º per second reaching 150º C is recommended.
Lumex OctoLEDs™ are RoHS compliant.
You have successfully added from to your part list.
---