Product Announcement from M&P Manufacturing USA, Inc.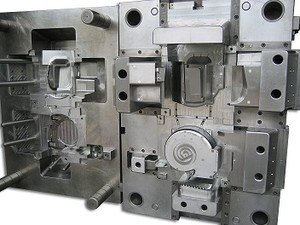 M&P began business as a mold maker in 1987.
We are very experienced in the design and production of plastic injection molds, Aluminum & Zinc die casting molds and progressive and single hit stamping dies.
We have the best engineers and mold makers who have more than 20 years experience. M&P uses the latest CAD design software like UG, Solidworks, Pro-E and AutoCAD for the mold design.
We also have the latest precision equipment like high speed CNC machining centers, CNC precision WEDM wire cutters, mirror EDM and so on.
Precision is assured and checked on every tool using optical inspection equipment and rigorous process controls.
This combination of design experience, precision production equipment and quality inspection processes guarantee that we build the highest quality tools for our customers.
M&P exports to America, Canada, UK, France, Australia and Germany to name a few.
These customers serve industries such as automotive, electronics, medical and gaming accessories.
Our customers range from large multinationals like Nissan and Chrysler to medium or small companies.
M&P has established strong and lasting partnerships with our customers for years. The molds we build range from prototype and MUD insert molds to high quality production molds with 1 million shots tooling life guaranteed.
Our Company:
M&P Manufacturing USA is structured specifically to be a one-stop source for almost any mechanical component used in our Customers' products. From tooling to final assembly and packaging we have the experience, capability and depth of knowledge to support your ever changing needs.
This single point of contact helps reduce many of the issues that can arise from multiple vendors. Whether we supply a single component or an entire assembly, M&P is focused on understanding our Customers' needs and supplying only the highest quality product.
Our business units cover 4 primary areas of expertise. These include:
Product Gallery:
M&P Factory and Equipment Photos
History:
M&P Manufacturing USA is a total Engineered Mechanical Component solution supplier. Founded in 1987 as a small mold shop, M&P has grown in size and capability, with an experienced technical staff of more than 300, engaged in manufacturing tooling, engineered mechanical components and assembly services in our modern and efficient production facilities
In today's business world we know that cash management and long term strategies are important. We get how business works and what brings sustained growth and market leadership to our customers.
That's why we are grounded in tooling and engineered components - but ultimately, we help DRIVE OUR CUSTOMER'S COMPETETIVE ADVANTAGE for the long term.
Being able to react quickly and capitalize on new opportunities is essential to growth and improved profitability. We deliver on that need by providing a single source supply for a broad spectrum of tooling, engineered mechanical components and assembly services.
M&P has a passion for collaborative relationships with our customers. We believe that together, there is nothing that cannot be accomplished.
One Stop Shopping
M&P Manufacturing USA's factories can design and build complex injection molding and die cast tooling as well as build-to-print, engineered metal parts and custom plastic parts. We also offer a number of related services such as product assembly, prototype and short run production, design analysis, and logistics options. With this range of capabilities our customers get one-stop-shopping for a broad range of mechanical component parts. M&P is strictly a build-to-print OEM supplier and we have no in-house products to create conflicts of interest or confidentiality issues. Each customer and part is maintained with absolute discretion to assure your mission critical engineering specifications are safe. M&P has our own production facilities. We do not attempt to supply parts that are not within our capabilities. Our customers enjoy the benefits of excellent pricing and extensive capacity while conducting business in the US, in English and in Dollars.
You have successfully added from to your part list.
---